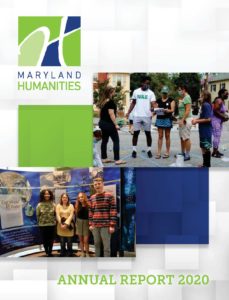 You are an integral part of our success. See what you make possible.
We are pleased to present our 2020 Annual Report, covering the period November 1, 2019–October 31, 2020.
Despite the incredible challenges and upheavals posed by both national and global events, we were able to successfully adapt nearly all of our programs for the virtual sphere last year.
We offered a mix of 1,021 in-person and virtual events in a dozen programs to just over 272,000 Marylanders in our fiscal year 2020. Inside the report, you'll find photos, striking and informative infographics, details of all the grants we awarded—including 100 COVID-19 relief grants through the CARES ACT—, as well as many of our partner organizations, our financial statement, and a list of our generous donors.
Thank you for your interest and support in our vital work!