September 28, 2016
by Sydney Jenkins
"Watermelon, Watermelon, red to the rind!" "Grapes and Peaches Feeling Ripe!"
When I mention to Maryland natives that I am involved with the Arabbers Preservation Society, folks first tell me about the Arabber hollers they remember echoing down the streets when they were kids. They will have a fruit or vegetable holler that best reminds them of these Baltimore City produce hucksters.  When I explain that I spend weekends hanging out at the Arabber yard, helping them to clean up the stables and supporting their efforts to sell vegetables via horse drawn cart and that today's Arabbers are out of the streets every day promoting their unique methods of produce sales, the typical response is: "Wait, they're still around?"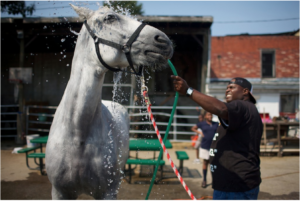 Arabbers have existed in Baltimore since the formation of the city in 1729. At their earliest inception they were called hucksters or street peddlers.  In fact, street peddling as an occupation was common at one time in most American cities.  New immigrants and other marginalized individuals with few opportunities to earn a living were able to quickly establish themselves as street peddlers.
By the 19th century Baltimore's street peddling scene was unique from other cities for a geographic reason: Baltimore is a port city in a border state.  Baltimore had the largest free African American population and was home to the second largest immigrant port on the East Coast, thus Baltimore's band of street peddlers were numerous. However, Baltimore street peddlers' uniqueness doesn't stop there.  Around the turn of the 20th century, The Baltimore Sun began referring to Baltimore street peddlers as "arabbers," a term used in 19th century England to describe folks who lived or worked on the street.  None of the other cities adopted this term for its street sellers and having a special name for this group of workers helped to make them stand out as special.
The Arabbers as a historical topic is not easy to research. Arabbing as a job is somewhat transient in nature.  For much of their existence they have been relegated to the back alleys of Baltimore. And while the 20th century brought challenges for the Arabbers, including technology, urban planning initiatives, political power changes, competition with Baltimore's many public markets, and animal rights activists, here we are today, in 2016, and Arabbers are still on the streets.
In the city of Baltimore this story of woe isn't a sad one because here and ONLY here, the Arabbers are not only still existing, but they are thriving.  Recently, there has been a surge of new interest in preserving the Arabber way of doing business. With the support of the Arabber Preservation Society, the Arabbers themselves have been focusing efforts to promote and define what it means to be an Arabber.  They are interested in expanding what they do and one of the ways they hope will help is to increase their community engagement in Baltimore.  They want their unique work to become more publicly recognized.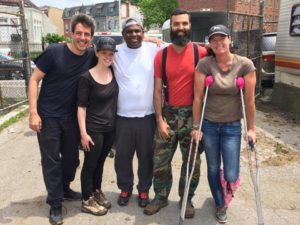 The first step is to improve their stable area or "Arabber Yard," and get the yard state certified as Maryland's 36th Horse Discovery Center.   The "Yard" is located on N. Fremont Avenue and the current plan is to turn it into a heritage and community center.  In addition to serving the Arabbers themselves, and running an Arabber training program, they will host adult and children's programming focused on animal husbandry, food, and African American history.
Of course, this first project is just a start and there are other Arabber-related projects in the works: A documentary of Arabber history, a mural project, and a horse turnout that could be utilized by the community.
If you are interested in learning more about the Baltimore Arabbers and the Arabber Preservation Society, check out their Facebook page or attend the next event at the yard.  Visitors are also welcome at the Arabber Preservation Society meeting on October 18th at 6:30p (location TBD).