July 26, 2017
Did you know summer reading programs in the United States date back to the 1890s? In those times the programs' main goals were to have children read over their summer vacations, to use the resources their local public library provided them, and to develop the life-long habit of reading. Twelve decades later the goals are similar and the Collaborative Summer Library Program (CSLP), a national coalition, works hard to bring top-notch summer reading programs and materials to the public. Children of all ages, teenagers, and adults are able to learn from and enjoy these programs via their local public library. Each year the CSLP selects a theme and the participating states build their programs around that theme. The state of Maryland participates in CSLP and this year's theme is "Build a Better World." In the following blog post you will learn how Anne Arundel County Public Library (AACPL) is building a better world for their patrons this summer!
This year's Summer Reading Club at the Anne Arundel County Public Library (AACPL) is exploring how to build a better world. Library customers of all ages are invited to expand their knowledge and sense of community, while relishing in new experiences. Reading or listening to books, attending one of the more than 1,400 free summer programs, or completing an activity, such as helping a neighbor or recycling at home are all ways to earn badges.
Summer STEM programming is a great way to interact with new friends and learn about our world. Local company, FutureMakers is partnering with the library to bring Virtual Reality afternoon camps and demonstrations using the latest technology. Kids can also attend the free Science in the Summer program and learn about sports science with hands-on activities taught by certified teachers through our partnership with Anne Arundel County Public Schools, Glaxo Smith Kline, and the American Association for the Advancement of Science.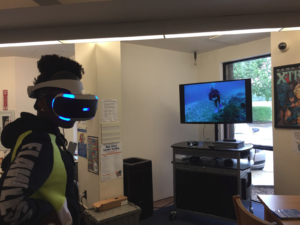 The Summer Reading Program extends outside of the library walls this season. We are proud to be working with the Anne Arundel County Public Schools' Summer Meals Program. With funds from the AACPL Foundation, the library has purchased new books to put in the hands and homes of children all over the county. Every Monday, we can be found at the Brooklyn Park Farmer's Market giving out books, blowing bubbles, and having pop-up storytimes. We will also be following the mobile meals bus while it delivers lunches to children in our county. Those children will also get to pick out a book to keep.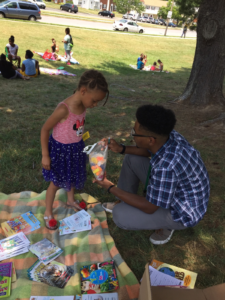 The importance of giving kids and families the opportunity to engage in literacy activities is more vital than ever. Research shows that kids who don't read over the summer can lose as much as two months of academic achievement and knowledge before they go back to school in the fall. This loss, commonly known as the Summer Slide, can more greatly affect children in lower income families. Through attending programs either at one of our 15 branches across the county or at one of our pop-up events, families have a chance to interact with books, stories, songs and more. We at AACPL are working hard to reach all members of our community. So if you haven't signed up for our Summer Reading Club, it's not too late! Preschool and school aged children will receive a book of their choice upon completion. Teens will be entered into a number of drawings for great prizes including an iPad Mini, and adults can have a chance to win a bluetooth sound system. Check out our website www.aacpl.net and join the summer fun at the library!
---
Disclaimer: The views and opinions expressed on our blog do not necessarily reflect the views or position of Maryland Humanities or our funders.