June 11, 2019
Students from Lansdowne High School documented the history of flooding in Ellicott City as part of Museum on Main Street in Baltimore County and the Stories: YES (Youth, Engagement, and Skill-Building) program. The Historical Society of Baltimore County is the first Museum on Main Street tour stop in Maryland.  Shannon Sullivan is the Museum on Main Street, Program Coordinator at Smithsonian Institution and this post originally appeared on the Smithsonian Institution's Museum on Main Street blog.
*****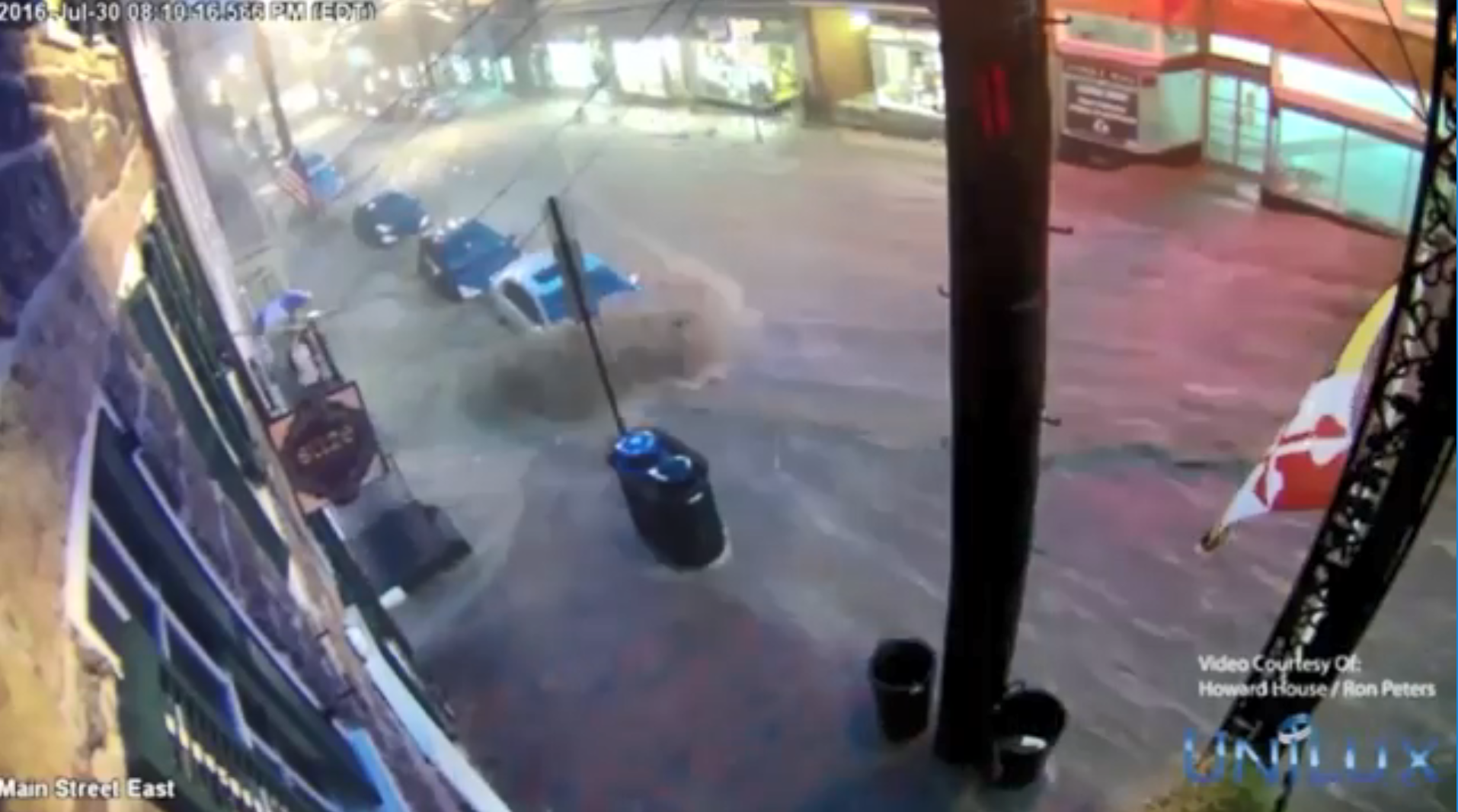 Twelve students from Lansdowne High School (LHS) Televideo program know the impact of massive flooding—they've witnessed it twice in their region in just two years. For the exhibition of Water/Ways at the Historical Society of Baltimore County (HSBC) in Cockeysville, Maryland, students documented the history of flooding in Ellicott City including floods that destroyed the historic downtown in 2016 and again in 2018.
HSBC applied to be part of MoMS' Stories: YES program shortly after the second destructive flood in 2018. Although Ellicott City is not in Baltimore County, HSBC provided numerous resources and crucial links to Howard County Historical Society for this impressive region-wide endeavor. In order to create their film, LHS students traveled to Ellicott City for one day to interview residents, politicians, and business owners while collecting footage and additional research. Below are a few excerpts of what they heard from the community:

"They had 6-8 inches of water falling in just 2 or 3 hours and there's nothing that's gonna stop the flooding."
"You know development versus the change in climate versus the geographical location—it's just one of those perfect storm areas that when things line up, it's like you hit the slot machine. But this is not the kind of jackpot that we want to hit."
"The catastrophic flooding we've experienced has also caused a tear in the fabric, each time there's a major flood, there are people who move away, businesses that don't come back, relationships that get frayed."
"The most important thing is that we're out of time."
Watch "Waterways of Ellicott City"
The LHS Honors Choral Ensemble also went to Ellicott City and sang "Take Me to the Water" at some of the community's landmark locales. Their performance in this music video is emblematic of the literal power of water that the city has faced but also the faith that the community has that they will find solutions, despite tough choices ahead.
Watch "Take Me to the Water"
HSBC will be showing the film and music video from May 25th to July 6th during the exhibition Water/Ways. The film has already received an honorable mention at the Baltimore County Public School Film Expo. Howard County Historical Society will host a special premiere in their Ellicott City museum location for the one year anniversary of the second flood on May 30th at 6:30 PM. Visit Maryland Humanities events page here for more information.
LHS Televideo is led by Brandon Nicklas. Stories: YES is made possible with internal Smithsonian funds through the Youth Access Grants Program.
#StoriesYES #WaterWays
---
Disclaimer: The views and opinions expressed on our blog do not necessarily reflect the views or position of Maryland Humanities or our funders.