September 9, 2021
The Edward H. Nabb Research Center for Delmarva History and Culture at Salisbury University currently hosts Voices and Votes: Democracy in America, our current Museum on Main Street exhibition. Creating their companion exhibit, Democracy on Delmarva, allowed the staff at the Nabb Center to explore their Nutters Election House collection. The Nutters House is Wicomico County's last surviving election house. Melinda McPeek, Nabb Center's Curator of Exhibits and Engagement, writes about the process here.

In our last blog post, McPeek discussed the process of creating Democracy on Delmarva. Read that here. 
---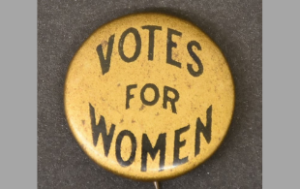 When the Nabb Research Center was selected to host Voices and Votes: Democracy in America, it was the perfect opportunity for us to take on the monumental task of cataloging and processing a significant political collection in our holdings—the Nutters Election House collection.    
Originally constructed in 1938, the Nutters District Election House is the last surviving election house in Wicomico County, Maryland. The Election House previously displayed the large collection of political memorabilia amassed by John Jacob, former president of the Wicomico Historical Society. In 2001, this collection was donated to the Nabb Research Center as part of the larger Wicomico Historical Society Collection. It contains over 2,500 objects and archival items from national, state, and local political campaigns spanning from 1820 to 2004. Included in the collection are hundreds of campaign posters and buttons, ballots, voter registration ledgers, and many campaign novelties such as McKinley's soap baby and a Jimmy Carter wind-up peanut.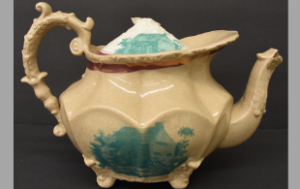 While the collection had been accessioned and inventoried, it had not been fully cataloged. In the year leading up to Voices and Votes, curatorial student assistant Sabrina Tarver, graduate assistant Marianna Agazio, and museum studies intern Samantha Steltzer researched, cataloged, photographed, and digitized items in the collection and entered the data into our PastPerfect collections database. Throughout the process, we were able to identify objects for possible inclusion in our companion exhibit, Voices and Votes: Democracy on Delmarva. 
As part of a field study for the University of Maryland MLIS program, graduate student Nicole Kulp worked with Ian Post, our local history archivist, to process and complete a finding aid for the archival portion of the collection. The finding aid is available online here.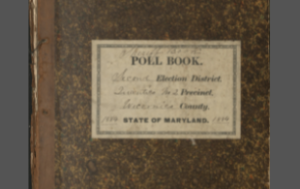 On display at the Nabb Research Center is just a small sampling of campaign ephemera from the collection. The Nutters Election House collection is a treasure trove for those interested in political history and campaigns, and thanks to Voices and Votes, this resource is now readily accessible and available to researchers and Salisbury University students.
---
Voices and Votes is on view at the Nabb Research Center through September 25. The exhibition then heads to Sandy Spring Museum, where it opens October 10. Learn more about Voices and Votes. Disclaimer: The views and opinions expressed on our blog do not necessarily reflect the views or position of Maryland Humanities or our funders.