Date/Time
Date(s) - February 11, 2021
7:00 PM - 8:00 PM
Add to Calendar
Pulitzer Prize-winning columnist and author Leonard Pitts Jr., a resident of Prince George's County, discusses the history of voter suppression in the United States and Black voter engagement in American politics with PGCMLS' COO for Public Services Michelle Hamiel.
Leonard Pitts, Jr. (born October 11, 1957) was born and raised in Southern California and now lives in Bowie, Maryland, with his wife and children. He is a nationally-syndicated columnist and winner of the 2004 Pulitzer Prize for Commentary. He was originally hired by the Miami Herald to critique music, but within a few years he received his own column in which he dealt extensively with race, politics, and culture. He has won awards for his writing from the Society of Professional Journalists and the American Society of Newspaper Editors, and was first nominated for the Pulitzer Prize in 1993, eventually claiming the honor in 2004. His books include "Grant Park," "The Last Thing You Surrender," "Freeman," and "Racism in America: Cultural Codes and Color Lines in the 21st Century."
Borrow Leonard Pitts Jr.'s books from PGCMLS (https://pgcmls.info)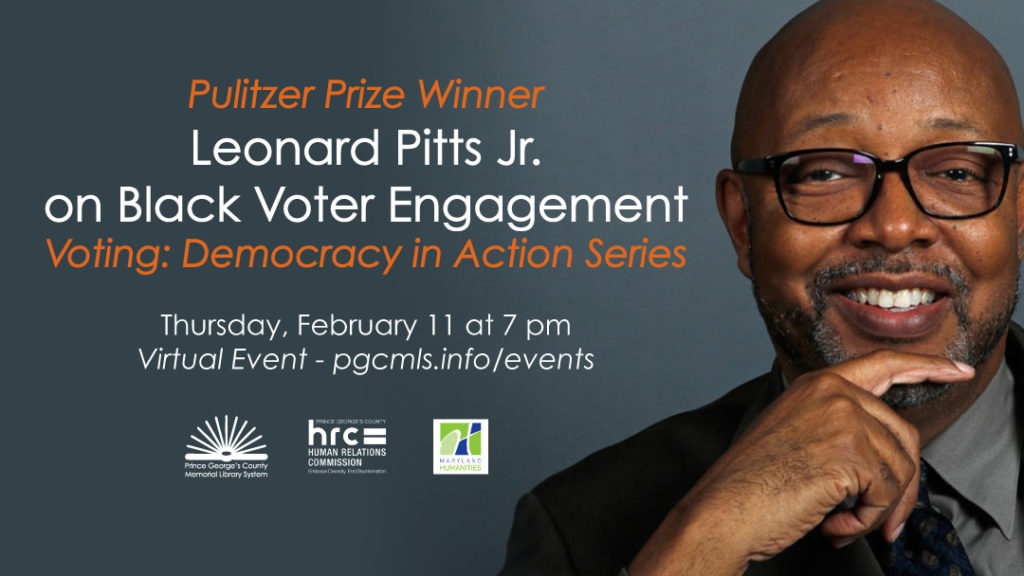 ---
This event was funded in part with a Maryland Humanities Voices and Votes Electoral Engagement Project (VVEEP) Support Grant through the "Why it Matters: Civic and Electoral Participation" initiative, administered by the Federation of State Humanities Councils and funded by Andrew W. Mellon Foundation.