Date/Time
Date(s) - May 4, 2019
10:00 AM - 12:00 PM
Location
Wide Angle Youth Media
2601 North Howard Street, Suite 160, Baltimore, MD, 21218, Baltimore City
Categories
Add to Calendar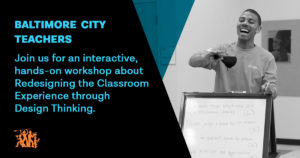 In 2018, Wide Angle designed a curriculum entitled, Why Black Lives Matter: Discussing Race Through Film, Photography, and Design. During this session, you will learn more about our curriculum through delving into our first lesson which introduces Design Thinking.
While working to create the curriculum, we discussed with our youth that racism and inequity are products of design. They can be redesigned.
As facilitators, our goal is to teach you how to use the curriculum through an interactive, hands-on approach. We are looking for 15 Baltimore City School Teachers to attend. Teachers that attend will engage with one of our students in dialogue about how to redesign the classroom experience, and will be given a $25 Amazon Gift Card upon completion of the session and Curriculum Feedback Survey.
Not a Baltimore City School teacher? We want you to be a part of our session, too! Tickets are available on a first come first serve basis. Get yours now!
Unable to make it in person? That's okay, too! We still want you to participate. We will be streaming the session via Facebook Live. Follow us on social media today for updates and save the date!