Date/Time
Date(s) - March 4, 2019
5:30 PM - 7:30 PM
Location
Wide Angle Youth Media
2601 North Howard Street, Suite 160, Baltimore, MD, 21218, Baltimore City
Categories
Add to Calendar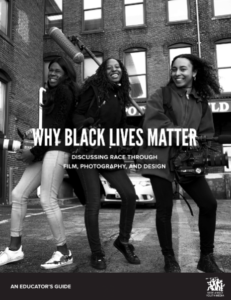 Each year, Wide Angle Youth Media's students select a topic that guides the creation of that year's films. In 2018, students self-selected the topic "Black Lives Matter." In response to student interest and in an effort to engage wider audiences around the importance of this topic, Wide Angle educators designed a "Why Black Lives Matter" Curriculum.
The curriculum combines Wide Angle Youth Media created films, an anti-racist lens, and an equity design thinking approach, to lead students through discussions and activities ranging from race and ethnicity to intersectionality and allyship.
At this training, teachers can expect the following: 
       To have questions about the curriculum answered by the designer.
       To offer feedback related to the curriculum.
       To practice the design thinking method.
       To workshop with other teachers and the curriculum designer about how these lessons can be applied to           their specific subject areas.
Space is Limited! Reserve your spot today!