Maryland Humanities Tour of Smithsonian Exhibition
December 21, 2021
Voices and Votes travels the state through Maryland Humanities' Museum on Main Street Program
(Baltimore, MD) – The Historical Society of Baltimore County and Maryland Humanities present Voices and Votes: Democracy in America, a traveling Smithsonian Institution exhibition, in the Art Gallery on the Community College of Baltimore County (CCBC)'s Dundalk campus now through January 22.  The gallery serves as the final venue of a five-stop tour of the state, presented through Maryland Humanities' Museum on Main Street program.
Each Voices and Votes host creates a local exhibit to complement the Smithsonian Institution exhibition. The Historical Society of Baltimore County's exhibit—to be displayed at the Historic Almshouse in Cockeysville—highlights Baltimore County's stories of struggles, successes and collaboration toward achieving the promise of democracy. The exhibit explores the fight for voting rights for women, Black people, and immigrants in Baltimore County. Keep an Maryland Humanities' website for further information. Maryland Humanities, CCBC, and the Historical Society of Baltimore County will host a virtual curatorial talk on January 6 featuring Smithsonian Institution curator emeritus Harry R. Rubenstein. Participants will learn on Voices and Votes was conceived, designed, and is relevant to our present experience of democracy in America.
Voices and Votes is the seventh Museum on Main Street project brought to smaller communities throughout the state by Maryland Humanities. Each venue hosts the exhibition for six weeks and develops a complementary exhibit highlighting their community's heritage and histories.
"In addition to learning more about our country's voting history, we're looking forward to exploring the voting rights history of five diverse Maryland regions where our host sites are located," said Lindsey Baker, executive director of Maryland Humanities. "We see the impact the lack of voting access has on many Americans today and can better understand current civil rights movements by looking at our history."
Voices and Votes programming is supported by the National Endowment for the Humanities and the State of Maryland, and Maryland Public Television is the tour's Media Sponsor.
The Historical Society of Baltimore County hosts Voices and Votes December 8, 2021–January 22, 2022 at CCBC's Dundalk Art Gallery, located at 7200 Sollers Point Road. The exhibition will be on view Wednesdays, Fridays, and Saturdays, 1:00–5:00 p.m.; and Thursdays, 1:00–7:00 p.m. Please note that the exhibition will be closed December 22–January 2 during CCBC's Winter Recess. Masks are required. Groups may only visit by appointment. Learn more or make an appointment by sending a message to ssmith18@ccbcmd.edu. The Historical Society of Baltimore County will display their companion exhibit at the Historic Almshouse, located at 9811 Van Buren Lane in Cockeysville. The Almshouse will be open on Fridays and Saturdays, 10:00 a.m.–2:00 p.m., with the possibility of extended hours. The Virtual Curatorial Talk will take place on January 6 at 6:30 p.m:  register here.
Tour Schedule:
| | |
| --- | --- |
| April 17, 2021 – May 30, 2021 | Allegany Museum, Cumberland, Allegany County |
| June 12, 2021 – July 24, 2021 | Queen Anne's County Historical Society at Kennard African American Cultural Heritage Center, Centreville, Queen Anne's County |
| August 14, 2021 – September 25, 2021 | Edward H. Nabb Research Center for Delmarva History and Culture, Salisbury, Wicomico County |
| October 8, 2021 – November 21, 2021 | Sandy Spring Museum, Sandy Spring, Montgomery County |
| December 4, 2021 – January 22, 2022 | Baltimore County Historical Society at the Community College of Baltimore County Dundalk, Baltimore County |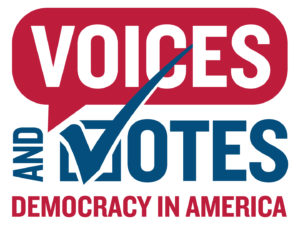 About Voices and Votes
Voices and Votes is based on a major exhibition currently on display at the Smithsonian's National Museum of American History. This Museum on Main Street adaptation has many of the same dynamic features: historical and contemporary photos; educational and archival video; engaging multimedia interactives with short games and additional footage, photos, and information; and historical objects like campaign souvenirs, voter memorabilia, and protest material. Our democracy demands action, reaction, vision, and revision as we continue to question how to form "a more perfect union." How do you participate as a citizen? From the revolution and suffrage, to civil rights and casting ballots, everyone in every community is part of this ever-evolving story – the story of democracy in America.

About Museum on Main Street
Museum on Main Street is a Smithsonian Institution Traveling Exhibition Service program that teams up with state humanities councils to bring high-quality Smithsonian traveling exhibitions to museums, historical societies, and other small-town cultural venues across the country. These exhibits boost civic pride, as residents young and old, from diverse backgrounds come together to share and celebrate their heritage. Learn more about the program here.