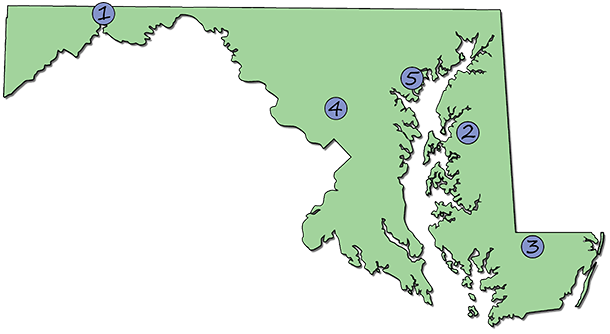 When American revolutionaries waged a war for independence they took a leap of faith that sent ripple effects across generations.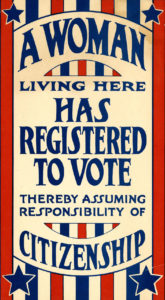 They embraced a radical idea of establishing a government that entrusted the power of the nation not in a monarchy, but in its citizens. That great leap sparked questions that continue to impact Americans: who has the right to vote, what are the freedoms and responsibilities of citizens, and whose voices will be heard? Voices and Votes: Democracy in America will be a springboard for discussions about those very questions and how they are reflected in local stories.
Voices and Votes is based on a major exhibition currently on display at the Smithsonian's National Museum of American History. This Museum on Main Street adaptation will have many of the same dynamic features: historical and contemporary photos; educational and archival video; engaging multimedia interactives with short games and additional footage, photos, and information; and historical objects like campaign souvenirs, voter memorabilia, and protest material.
Our democracy demands action, reaction, vision, and revision as we continue to question how to form "a more perfect union." How do you participate as a citizen? From the revolution and suffrage, to civil rights and casting ballots, everyone in every community is part of this ever-evolving story – the story of democracy in America.
Voices and Votes will be touring the state from April 2021 through January 2022. View the exhibition and engage in programs at a location near you!
Watch a video preview of "Voices & Votes" with the Smithsonian's Robbie Davis
Exhibition Content

The exhibition will explore historic events and pose questions for today in the following content areas:

The Great Leap: Examine the context and main controversies behind America's democratic system. Learn the stories of our famous founders and those who remain mostly unknown. What were the principles and events that inspired the writers of the Declaration of Independence and the Constitution? Just how revolutionary was our new democracy led by the people? And who were "the people?"
A Vote, A Voice: We have a diverse body of voters today, but not every American has always had the right to vote. The fight for fair representation, suffrage, and a voice at the polls has meant struggle and changes to laws ever since our founding. Learn about these struggles, how voting was expanded, and continued challenges to voting.
The Machinery of Democracy: We participate in the political system through state and national parties, nomination conventions, and stumping for our candidate of choice. Learn about this machinery of democracy, how it calls us to be involved, but can also control how we get information about candidates and issues.
Beyond the Ballot: Americans fight against injustice. Men and women of every ethnicity, class, and state have shared in the revolutionary spirit of rising up and speaking out. The First Amendment to the Constitution guarantees this right to peaceably assembly and petition the government. See the different places and different motivations of diverse Americans to petition for their interests and concerns.
Creating Citizens: Who are "We the People?" What is the meaning of citizenship? Ever since the creation of the Constitution, Americans continue to interpret, expand, and shape the rights and responsibilities of being a citizen. Explore how those views of rights and responsibilities have shaped our national identity and our complex national story.
Please note that Maryland Humanities will move forward with Voices and Votes: Democracy in America as funding allows. The Museum on Main Street host venue application process is competitive. No organization is guaranteed to be selected as a host venue.
Voices and Votes: Democracy in America traveling exhibition may be used for educational purposes only. The exhibition may not be used toward commercial or political ends.
Voices and Votes: Democracy in America has been made possible in the state by Maryland Humanities.
Voices and Votes: Democracy in America is part of the Museum on Main Street, a collaboration between the Smithsonian Institution and state humanities councils. Support for Museum on Main Street has been provided by the United States Congress.