Work is more than just goals and deadlines – it's about people
Build workplace morale with a little reading. Complete a sign-up form and share a book and good conversation with your co-workers today. It's never too late to LitLunch! And you can do it virtually too!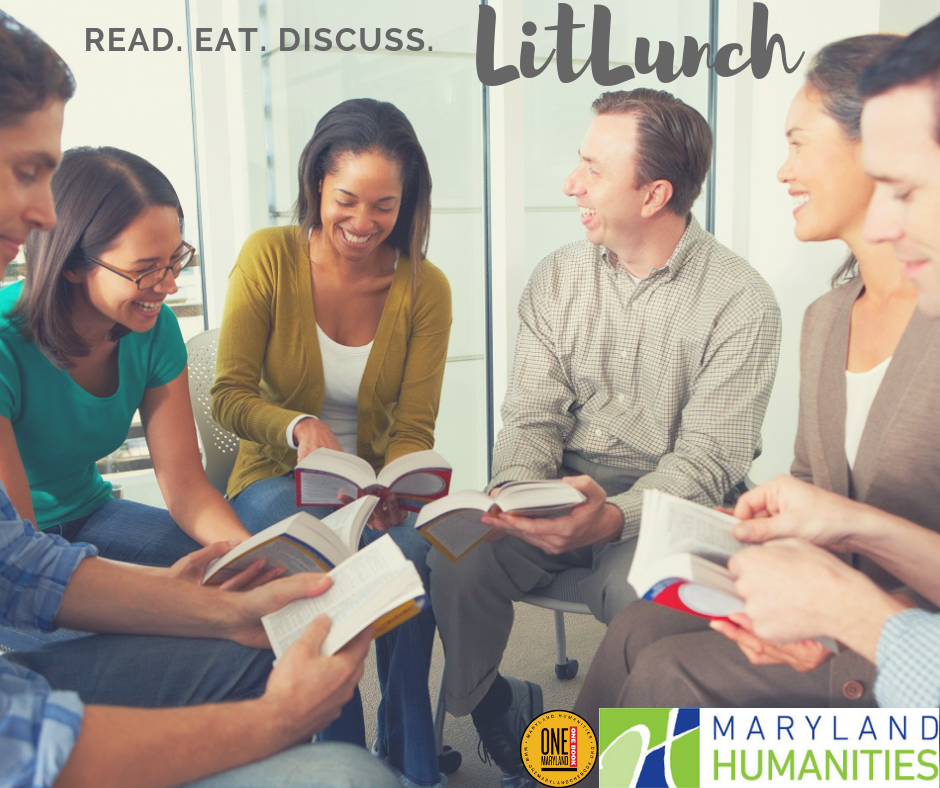 What is LitLunch?
LitLunch encourages Maryland businesses and other organizations that may not typically be involved with literature programs to start up a workplace book club. LitLunch was developed by the Maryland Center for the Book at Maryland Humanities. If your organization already has an established book club, we invite you to join us too! Complete a LitLunch sign-up form.
Who can participate?
Employees of any organization in Maryland can start a LitLunch book club.
How does LitLunch work? And why should my organization participate?
LitLunch is a one-day program that is quick and easy to organize. It can also be done virtually. Get the answers to all your questions with our FAQs:
How do we participate in LitLunch? (Hint: it's simple!)

Participating in LitLunch requires just four simple steps:

Choose your leader: Designate a staff member to lead the program or ask for a volunteer on staff to take the reins
Set the date, time, and location for your discussion: Make sure your group has ample time to read the book before the discussion. Ask your colleagues to brown bag it or, better yet, treat them to lunch!
Spread the word: Advertise the discussion and reach out to as many departments as possible – the more the merrier and the better the discussion
The big day: ready, set, discuss! We recommend blocking off 60 – 90 minutes for this special discussion program.

Why should we start a book club at work?

LitLunch is a low-cost endeavor that supports morale and builds familiarity among staff and teams. Studies have shown a positive correlation between increasing opportunities for employee interaction and improving performance, innovation, and creativity. Through our work, Maryland Humanities has found that reading and discussion programs also foster better understanding among coworkers and across departments or teams, leading to richer workplace relationships.

What book do we read for LitLunch?

The 2022 One Maryland One Book selection: What's Mine and Yours by Naima Coster. One Maryland One Book is an annual Maryland Humanities program that brings thousands of Marylanders together through the shared experience of reading and discussing the same book.

What's Mine and Yours is a multigenerational saga featuring two North Carolina families. They collide in ways that neither is prepared for when Black students from the east side of the county are integrated into the predominantly white schools on the west side. Readers will follow these families over decades as they break apart and come back together

Once you start reading together, we think you'll want to make LitLunch a regular offering at your organization. We hope you'll join us in reading the One Maryland One Book selection each year and maybe even add a few picks of your own to your LitLunch reading list.

How do we host a virtual book club?

In times of social distancing, it's important to know how to host a virtual book club. You have our #1MD1BK title What's Mine and Yours by Naima Coster as your first read. If you have your date and time of your meeting selected,  then all you need is a "place" to meet.

You can use:
1) Google Hangouts – You can make video and voice  calls up to ten people.

2) Zoom  – With the free version you can chat up to 40 minutes.

3) Skype – You can host a group of up to 50 people.

4) Slack – Already used in work spaces, Slack allows video chatting for up to 15 people.

Can you help us organize our program?

Yes! Just indicate on your sign-up form that you'd like a Maryland Humanities staff member to call you for a consultation. We'll contact you, set up a meeting, and help you get started. We can even connect you with a local bookseller.

How do we sign up?

Can we give feedback?

Absolutely! We'll check in with you after your discussion program to get your comments, reactions, and anything else you'd like to share.