Veterans Oral History Project
Since 2015, students at Southern High School in Anne Arundel County have conducted oral history interviews with Vietnam War veterans and Vietnamese immigrants who experienced the war. The students in teacher Jennifer Davidson's classroom first receive training in oral history techniques in classroom sessions with oral historian Dr. Barry Lanman of the Martha Ross Center at the University of Maryland Baltimore County. Transcripts and video of the interviews are housed at the Maryland State Archives and can be accessed online here. The project is showcased at annual community events.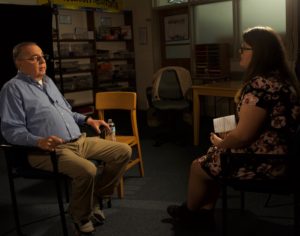 In partnership with the National Endowment for the Humanities, Southern High School, and the Martha Ross Center for Oral History at the University of Maryland, Baltimore County, we are proud to offer a new oral history educational resource for teachers. The virtual toolkit deepens students' understanding of the Vietnam War through student-led interviews with Vietnam veterans and features lesson plans, teacher notes, and student worksheets. Learning how to collect and analyze first-hand experiences helps students better understand how history is recorded, why it is valuable, and the concrete ways historic events—like the Vietnam War—impact the lives of individuals. Beyond the historical research skills, students gain through creating original research, oral history as an educational experience builds students' life skills like empathy, critical reading and thinking, awareness, self-confidence, communication, and inter-generational engagement.
Explore the EDSITEment lesson plans and toolkit to bring the Veterans Oral History Project to your community!
You can also get a taste of the program through the video below.
Maryland Veterans: A Journey Through Vietnam from thinkport on Vimeo.
Video produced by Maryland Public Television
Oral histories conducted and filmed by the students of Southern High School
Veterans Oral History Project is sponsored in part by Lockheed Martin and The Wawa Foundation.