Championing the humanities across a state as diverse as Maryland requires many contributors and much collaboration. That's where our SHINE Grants program comes in: Strengthening the Humanities Investment in Nonprofits for Equity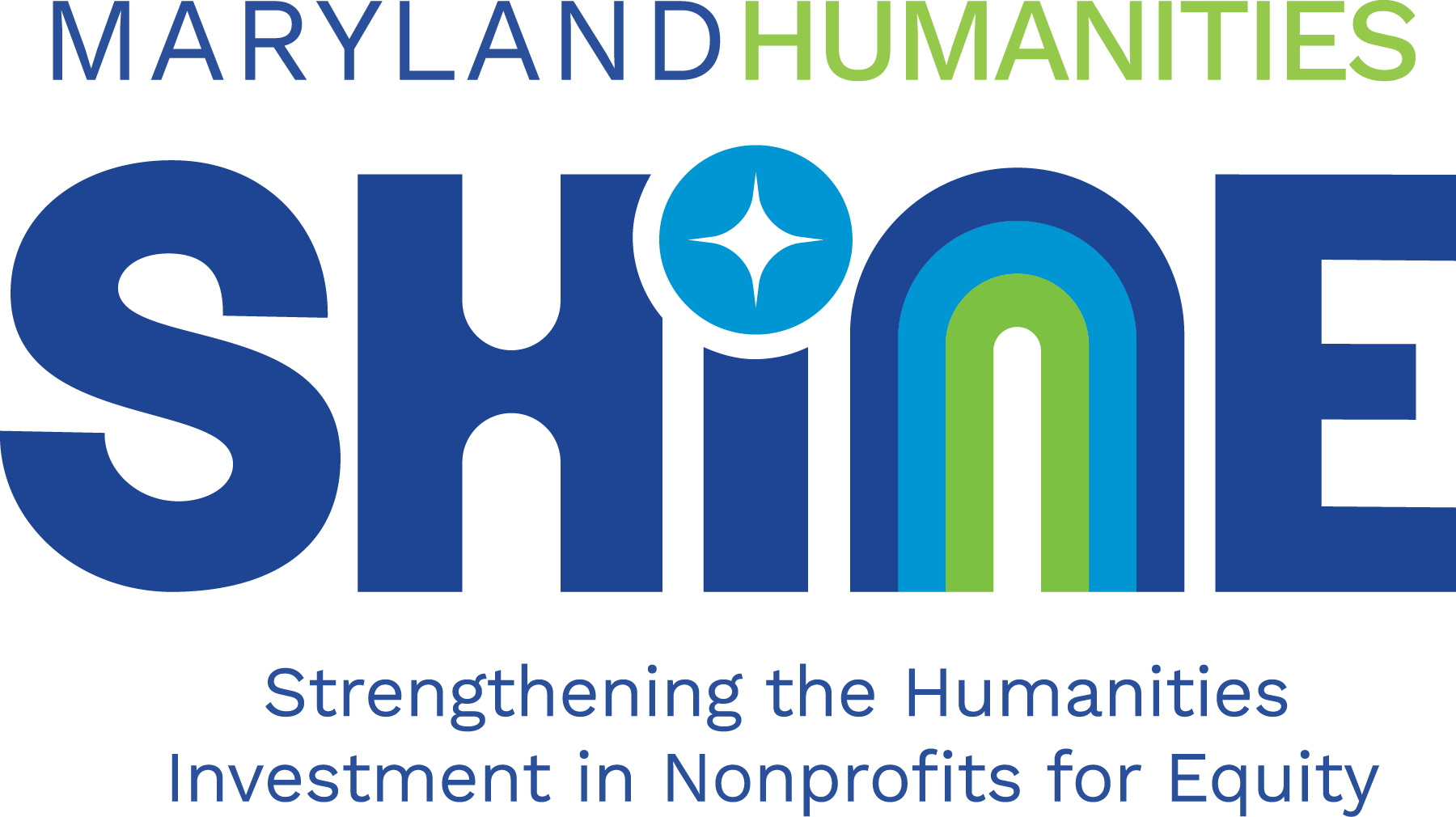 Maryland Humanities' grants program will now fund general operating support to humanities nonprofits in Maryland. We have been actively adjusting our grant practices over the past few years with a focus on equity and accessibility. Since 2020, we've had the opportunity to award $1.425 million in COVID-relief funds–all as general operating support grants. With SHINE, Maryland Humanities takes the next step in our grantmaking evolution and aims to lower barriers and provide funding in a more equitable way to organizations statewide. Thank you to the State of Maryland via the Maryland Historical Trust for providing the SHINE seed money and helping to invest in a healthier humanities landscape statewide.
Goals of Maryland Humanities' SHINE Grants Program
Continue and expand general operating support funding, awarding $500,000 in grants.
Focus on small and mid‐size humanities, arts, cultural, and educational nonprofits that may not have staff capacity or resources to be competitive in fundraising.
Ensure a broad geographic reach, similar to what we were able to realize from our COVID‐relief grants, which funded organizations in all 23 of Maryland's counties, plus Baltimore City.
Continue to refine lessons learned on how to evaluate applicants and distribute funds equitably, while ensuring accountability and responsible fiscal stewardship.
Convene annual cohorts of grantees in new networks of engagement and common purpose to amplify the state's investment, strengthening both the organizations and communities.
The application period closed on September 15, 2022.
Grant Recipients by County
Allegany County

Allegany Museum

Emmanuel Episcopal Church

Evergreen Heritage Center Foundation

Frostburg Museum Association

Historic Frostburg, a Maryland Main Street Community

Anne Arundel County

Chesapeake Children's Museum

Galesville Community Center

Lost Towns Project

Baltimore City

Afro Charities

CityLit Project

Eubie Blake National Jazz Institute and Cultural Center

Friends of President Street Station

Maryland Women's Heritage Center

Moving History

Muse Arts 360

The National Great Blacks in Wax Museum

Star-Spangled Banner Flag House Association

Baltimore County

Historical Society of Baltimore County

Historic East Towson

Historic Hampton

Maryland's Four Centuries Project

Calvert County

Launching Educational Assistance Program Forward (LEAP) Forward

Carroll County

Historical Society of Carroll County Maryland

Charles County

African American Heritage Society of Charles County

Farm Heritage Conservancy

Maryland Veterans Museum at Patriot Park

Dorchester County

Dorchester County Historical Society

Groove City Black Heritage & Culture Group

Frederick County

African-American Resources Cultural Heritage Society

Catoctin Furnace Historical Society

Global Z Recording Project

Heart of the Civil War Heritage Area

Garrett County

Garrett Lakes Arts Festival

Harford County

Howard County

Howard County Historical Society

Kent County

G.A.R. Post #25 (Sumner Hall)

Minary's Dream Alliance

Montgomery County

Bethesda Historical Society

The Civic Circle

Docs in Progress

Prince George's County

Anacostia Trails Heritage Area

National Museum of Language

Queen Anne's County

Kennard Alumni Association

St. Mary's County

Friends of the St. Clement's Island and Piney Point Museums

Talbot County

Washington County

Camp Ritchie Museum

Hagerstown Roundhouse Museum

Wicomico County

Worcester County

Beach to Bay Heritage Area

Delmarva Discovery Center & Museum