Our 2023 selection is:
There There by Tommy Orange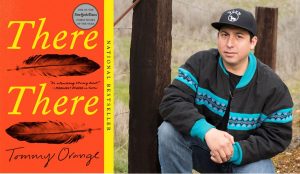 Join us from Mountain Maryland to the Ocean City shore as we read and discuss this memorable novel.
Released in 2018, There There tells the interconnected stories of a cast of twelve Native characters from across generational lines, as they converge toward the Big Oakland Powwow. Together, the stories give a riveting portrait of the urban Indian experience. There There was one of The New York Times Book Review's 10 Best Books of the Year, and won the Center for Fiction's First Novel Prize, as well as the PEN/Hemingway Award.
In the fall, Maryland Humanities will collaborate with partners across the state, including libraries, schools, universities, book clubs, and local Native/Indian organizations to conduct programs where readers can connect with each other and discuss the book's themes. Maryland Humanities will distribute free copies of There There to partners.  Programming takes place this fall from September to November. All events are free.
The book was chosen with a public call for titles which was then reviewed by a selection committee is comprised of librarians, teachers, writers, editors, and community workers from across the state. Their diverse range of expertise and personal backgrounds help choosing which book will be a collective articulation of what literature can, and should, offer Maryland in 2023.
"There There" weaves together a cast of twelve interconnected characters from across Native communities, as they converge toward the Big Oakland Powwow. Some contend with sobriety and mental health, while others desire to preserve cultural dance and history. A few, meanwhile, plan to rob the powwow's contest cash prize. Through these multiple facets, filled with pain, humor, sorrow, and ambition, Tommy Orange gives readers a riveting, modern portrait of the urban Indian experience.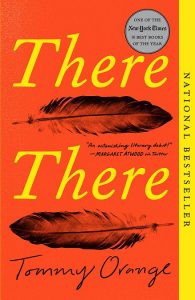 About the Author

Tommy Orange is the author of the New York Times bestselling novel There There, a multi-generational, relentlessly paced story about a side of America few of us have ever seen: the lives of urban Native Americans. There There was one of The New York Times Book Review's 10 Best Books of the Year, and won the Center for Fiction's First Novel Prize and the Pen/Hemingway Award. There There was also longlisted for the National Book Award and was a finalist for the Pulitzer Prize. Orange graduated from the MFA program at the Institute of American Indian Arts, and was a 2014 MacDowell Fellow and a 2016 Writing by Writers Fellow. He is an enrolled member of the Cheyenne and Arapaho Tribes of Oklahoma. He was born and raised in Oakland, California.

About the Book

PULITZER PRIZE FINALIST  NATIONAL BESTSELLER • A wondrous and shattering award-winning novel that follows twelve characters from Native communities: all traveling to the Big Oakland Powwow, all connected to one another in ways they may not yet realize. A contemporary classic, this "astonishing literary debut" (Margaret Atwood, bestselling author of The Handmaid's Tale) "places Native American voices front and center before readers' eyes" (NPR/Fresh Air).

Among them is Jacquie Red Feather, newly sober and trying to make it back to the family she left behind. Dene Oxendene, pulling his life together after his uncle's death and working at the powwow to honor his memory. Fourteen-year-old Orvil, coming to perform traditional dance for the very first time. They converge and collide on one fateful day at the Big Oakland Powwow and together this chorus of voices tells of the plight of the urban Native American—grappling with a complex and painful history, with an inheritance of beauty and spirituality, with communion and sacrifice and heroism

A book with "so much jangling energy and brings so much news from a distinct corner of American life that it's a revelation" (The New York Times).It is fierce, funny, suspenseful, and impossible to put down—full of poetry and rage, exploding onto the page with urgency and force. There There is at once poignant and unflinching, utterly contemporary and truly unforgettable.