From Western Maryland to the lower Eastern Shore, our state is rich in cultural heritage. Museum on Main Street shines the spotlight on it.
True to our name, Maryland Humanities is committed to bringing outstanding humanities programs to every corner of our state. Museum on Main Street (MoMS) helps fulfill that promise. A collaboration between the Smithsonian Institution and state humanities councils like Maryland Humanities, MoMS brings high-quality traveling exhibits to Main Street museums, historical societies, and other small-town cultural venues across the country. These exhibits boost civic pride, as residents young and old, from diverse backgrounds come together to share and celebrate their heritage.
In 2015, for example, Maryland Humanities brought the sports-oriented Smithsonian traveling exhibit Hometown Teams to five communities across Maryland. Sports are an indelible part of our culture, reflecting the trials and triumphs of the human experience. Hometown Teams identifies compelling sports stories on the local level and brings them to light.
To contact Maryland Humanities about Museum on Main Street or its exhibitions, contact Theresa Worden.
By the Numbers
113

Museum on Main Street partners and hosts in 2017

​168

days that our last Museum on Main Street exhibition was on view in Maryland

319

Museum on Main Street community volunteers in 2017

5

counties in which our last Museum on Main Street exhibition was hosted

30,453

Museum on Main Street participants in 2017

615

Museum on Main Street special events, programs, & exhibits in 2017
Coming Soon
We'll announce the Voices & Votes exhibition tour on April 15!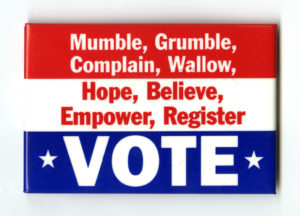 One of many buttons encouraging citizens to register and vote.