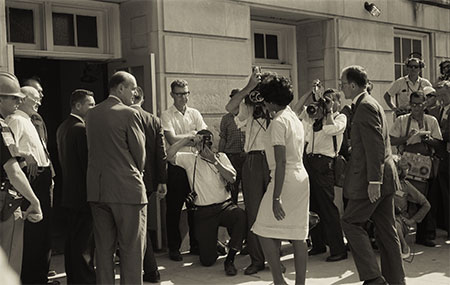 Brown v. Board of Education – Context and Legacy
May 17, 2004 marked the 50th anniversary of the unanimous Supreme Court decision in Brown v. Board of Education, which outlawed segregation in public education. In commemoration, Maryland Humanities launched the special Initiative, Brown v. Board of Education – Context and Legacy. Maryland Humanities partnered with nearly 40 cultural, historical, educational, legal and community organizations from all over Maryland.
Initiative highlights included an expanded Speakers Bureau, a magazine exploring Brown and the Civil Rights movement in Maryland, a student essay contest, Brown-related grants, a traveling exhibition based on oral history interviews about desegregation in Frederick County in central Maryland, broadcasts on Maryland Public Television, lectures and a curriculum guide developed by Prince George's Community College, and radio programs.
With the Brown v. Board Special Initiative – its first – the Maryland Humanities reached almost 400,000 people in Maryland.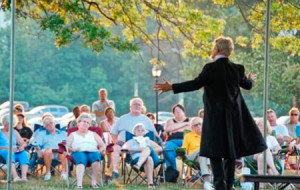 For 26 years, historic figures were brought to vivid life each July in a series of interactive living history performances by actor-scholars, followed by lively Q&A, held in as many as eight counties across Maryland. More than 80 people were featured over the years in the beloved program, which began in partnership with Garrett College in 1995 and eventually expanded to eight sites in seven counties in its final years. Chautauqua ended in 2020 during the coronavirus pandemic with its first virtual streaming performances.
Community Conversations
Community Conversations was a series of Maryland Humanities-facilitated discussions that encouraged groups to tackle tough issues using humanities materials to spark conversation. Communities brought their voices, perspectives, and opinions together in dialogue. Maryland Humanities provided this program from 2007 through 2009 to organizations with humanities-based materials, web-based tools, and trained facilitators.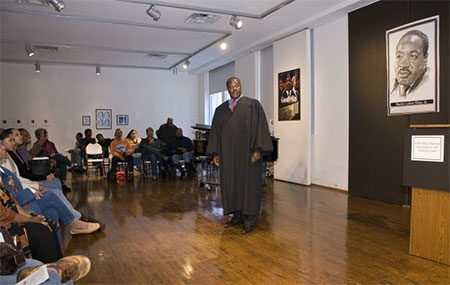 Dr. Martin Luther King, Jr. – Remembrance and Reconciliation
From the optimism of his historic "I Have a Dream" speech, to the fractures revealed following his assassination, Dr. King remains a central figure in our nation's ongoing dialogue on race.
In 2007 and 2008, 40 years after the assassination of Dr. King, the Dr. Martin Luther King, Jr. – Remembrance and Reconciliation special initiative used the humanities to stimulate open, inclusive conversations about race, one of the most critical — and difficult — issues in our state. Through cross-racial dialogue, Maryland Humanities engaged Marylanders in an examination of the legacy of Dr. King, the state of race relations in their communities, and ways to bridge the racial divide and resolve racial differences.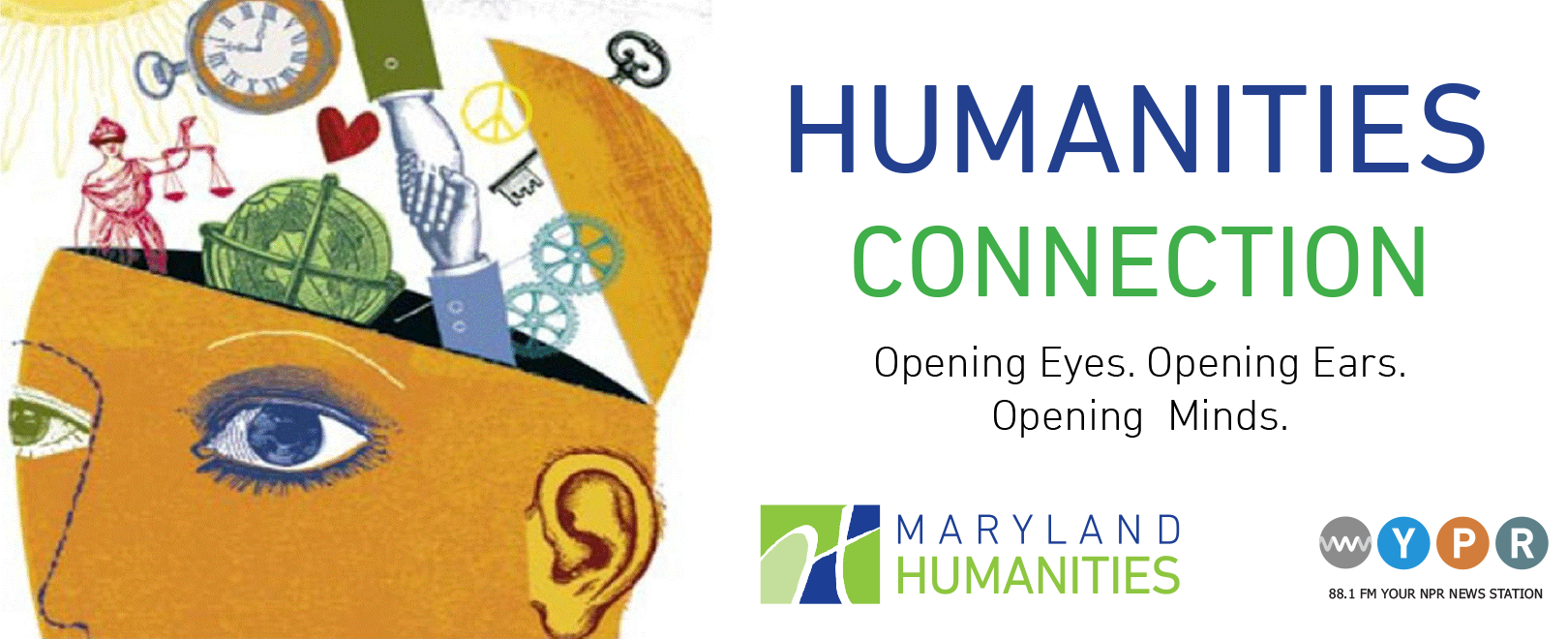 Humanities Connection
A weekly audio essay produced in collaboration with WYPR 88.1fm from 2013 to 2020, each installment explored the role of the humanities in our daily lives and featured a lively story or reflection around topics like education, literature, health care, race, ethics, theology, history, and more. Segments from 2016 to 2020 can be found on our Podcasts page.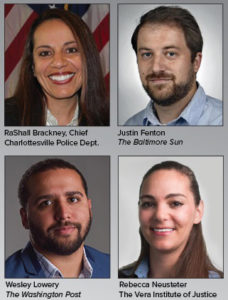 Maryland Humanities presented a series of justice-focused discussions from October 2018 through April 2019 under the auspices of the  "Democracy and the Informed Citizen" Initiative, administered by the Federation of State Humanities Councils and funded by The Andrew W. Mellon Foundation in partnership with the Pulitzer Prizes.
Reform of the US criminal justice system is arguably one of the most pressing civic issues facing our democracy. Lauded as among the world's most fair and equitable, many deem it "broken." How informed are we? What can we do to fix it? In speaking about the inequities of our system, public interest lawyer Bryan Stevenson has stated, "We are all implicated when we allow other people to be mistreated."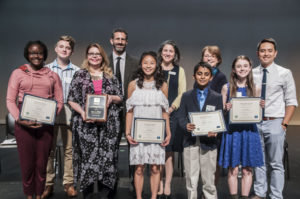 Letters About Literature
Letters About Literature was a signature program of the Center for the Book in the Library of Congress, coordinated locally by the Maryland Center for the Book at Maryland Humanities from 2007–2019. In a national reading and writing contest, students in grades 4–12 wrote a letter to an author explaining how the author's work—a book, poem, play, or speech—changed their view of themselves or the world. Additionally, an outstanding Letters About Literature educator who worked avidly to promote reading in their schools and laid the groundwork for their students to become lifelong readers was recognized annually with the Christine D. Sarbanes Teacher of the Year Award, named in tribute to a former Maryland Humanities board member.
Nearly 2,000 students from private, public, parochial, and homeschools across the state participated each year. First-place winners at the state level went on to compete at the national competition. We were delighted to have two national winners (Maggie Tighe, 2008 and Jisoo Choi, 2014) and a national runner-up (Juliana Gorman, 2015) for the contest.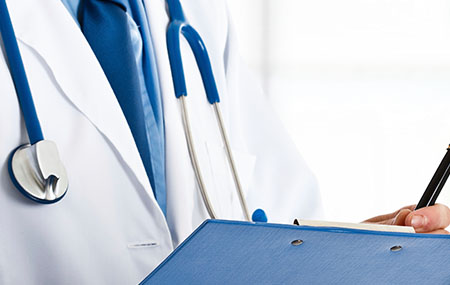 Literature & Medicine
Originally developed by the Maine Humanities Council in 1997, Literature & Medicine was a hospital-based, scholar-led reading and discussion program for health care professionals that benefitted both the professionals and their patients offered by Maryland Humanities from 2007 to 2020. Representing a spectrum of patient care roles, program participants increased their cultural awareness and interpersonal skills, contemplated professional roles and relationships, and shared reflections with colleagues by reading and discussing relevant plays, short stories, poetry, fiction, and personal narratives. The forum allowed the professionals to connect with colleagues on a deeper, more personal level, increasing their empathy for patients and one another.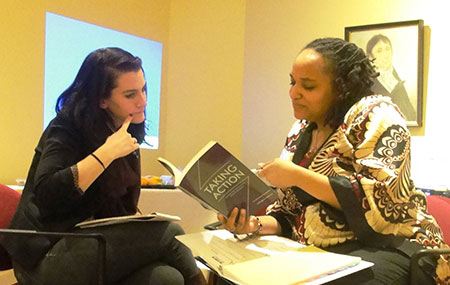 Meaning of Service
The Meaning of Service was a national reading and discussion series for AmeriCorps and volunteer service organizations brought to Maryland by Maryland Humanities from 2010 to 2013. This program invited service volunteers to join in facilitated discussion groups to read short texts to stimulate conversations about what it means to serve, give and lead. Participants reported that the reading and discussion sessions challenged them to think more deeply about their impact on others, helped them examine the complexities of service, and improved their ability to communicate their values and ideas to others.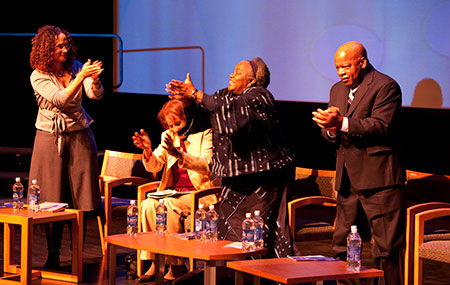 Music of the Movement – A Sustaining Voice
The final event of the 2008 MLK Special Initiative, Music of the Movement: A Sustaining Voice, featured a discussion of the music of the Civil Rights Movement–past and present. Congressman John Lewis and Dr. Bernice Johnson Reagon joined scholars Dr. Portia Maultsby and Dr. Tricia Rose to discuss how field hollers and spirituals became protest songs, how soul singers and funk musicians joined forces with the Civil Rights Movement, and how hip hop has influenced Civil Rights over the past two decades.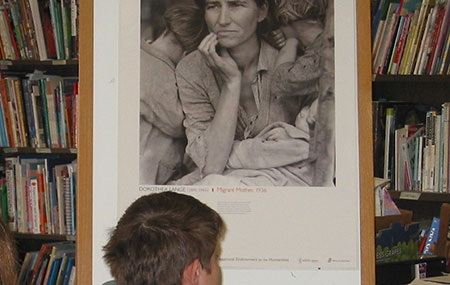 Picturing America
Picturing America
, a past initiative from the National Endowment for the Humanities, brought great American art into classrooms and libraries nationwide. Maryland Humanities brought this national program to classrooms across Maryland in 2008 and 2009. Through
Picturing America,
students and citizens gained a deeper appreciation of our country's history and character through the study and understanding of its art. The nation's artistic heritage—our paintings, sculpture, architecture, fine crafts, and photography—offers unique insights into the character, ideals, and aspirations of our country. Through 40 reproductions of notable American art alongisde teacher resources, students experienced the humanity of history.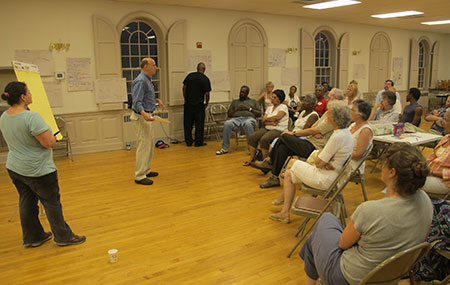 Practicing Democracy
Practicing Democracy brought Marylanders together and provided an opportunity for people of divergent views to convene for passionate, respectful, and effective civic dialogue. Practicing Democracy used the humanities to create a safe, shared space for open dialogue. This program kicked off in 2011 and continued through 2014.
Defying Definitions – 2013 and 2014
In 2013, the Defying Definitions project explored identity, stereotypes and diversity and challenged participants to reflect on how they perceive others, how they are perceived by others and what they understand about themselves.
In 2014 Defying Definitions moved to Maryland college campuses, where selected partners offered programs to address campus-specific issues using the humanities to spur dialogue on stereotypes, diversity, and identity.
Lets Be Shore – 2012
Let's Be Shore used the humanities to bring people with multiple perspectives together for passionate and respectful dialogue about land use and agriculture and their effect on water quality along Maryland's Eastern Shore. From May to October 2012, over 10,000 Marylanders engaged in civil dialogue with Let's Be Shore, both online and at local events.
Practicing Democracy – 2011
In 2011 Practicing Democracy addressed the issues of natural gas extraction, transportation, cultural diversity, and land use and development in four areas around Maryland. During its inaugural year, Maryland Humanities staff created a series of location-specific, issue-based assemblies. Practicing Democracy was honored in 2011 with the Helen and Martin Schwartz Prize for "Standout in Risk-Taking and Most Demonstrable Community-Changing Outcomes," an honor given by the Federation of State Humanities Councils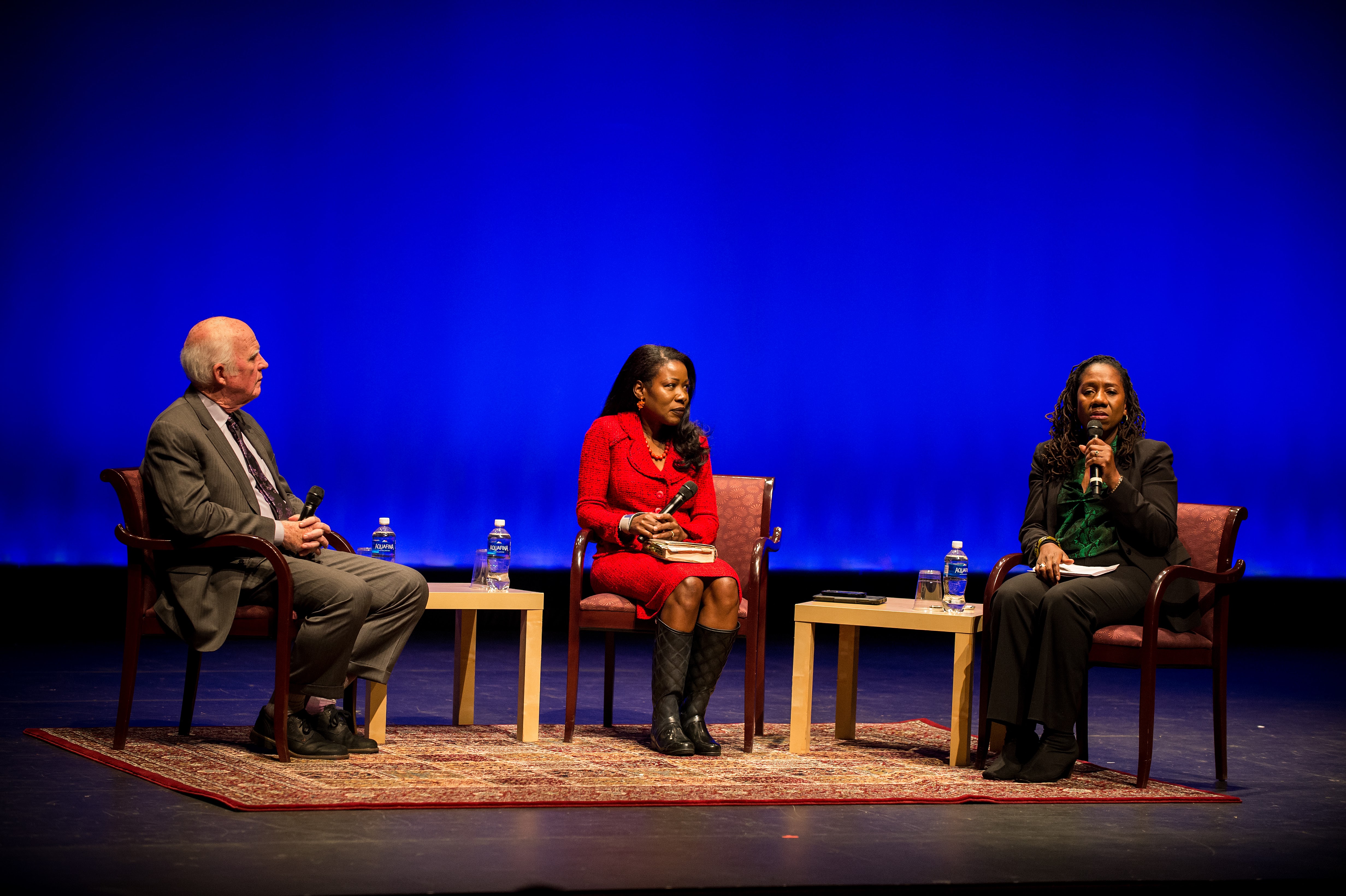 Pulitzer Prizes Centennial Programming
In 2016 Maryland Humanities commemorated the centennial of the Pulitzer Prizes with a year-long series of events. These events were part of the Pulitzer Prizes Centennial Campfires Initiative, a nationwide celebration funded by the Pulitzer Prizes, in partnership with the Federation of State Humanities Councils, and made possible through a $1.5 million grant from the Andrew W. Mellon Foundation.
Programming kicked off in March 2016 with panel discussions featuring acclaimed journalists discussing their craft and culminated December 6, 2016 with a special event featuring Pulitzer Prize-winning author-historians Taylor Branch and Isabel Wilkerson in a conversation moderated by Sherrilyn Ifill of the NAACP Legal Defense and Education Fund.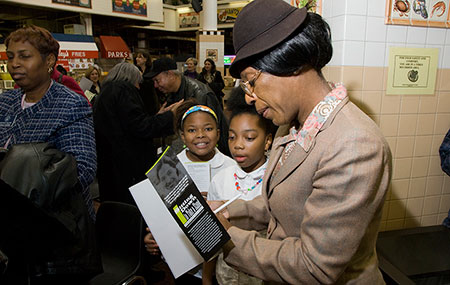 Remembering Rosa Parks
Rosa Parks became an icon of the American Civil Rights Movement by courageously refusing to give up her seat on a Montgomery, Alabama commuter bus on December 1, 1955. This act sparked the Montgomery Bus Boycott, which lasted for more than a year. It also thrust the Rev, Dr. Martin Luther King, Jr., as leader of the boycott, into the forefront of the African American struggle for justice and equality.
Maryland Humanities honored the memory of Rosa Parks with Sitting Down to Take a Stand—Remembering Rosa Parks, a 4-month long, multi-faceted celebration centering on December 1, 2008.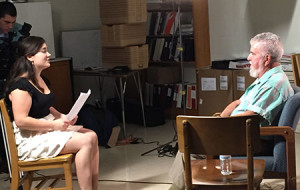 Veterans Oral History Project / Maryland Voices
From 2015 to 2019, students at Southern High School in Anne Arundel County conducted oral history interviews with Vietnam War veterans, Vietnamese immigrants who experienced the war, and veterans of more recent conflicts. The students in teacher Jennifer Davidson's classroom receives training in oral history techniques from oral historian Dr. Barry Lanman of the Martha Ross Center at the University of Maryland Baltimore County. Transcripts and video of these interviews are now housed at the Maryland State Archives and can be accessed online here. In 2019 the program transitioned to became Maryland Voices, bringing oral history training to schools and communities. Maryland Humanities staff and WYPR's Aaron Henkin (creator of the award-winning series, Out of the Blocks) lead workshops in schools, libraries, and other community settings, and ended in 2022.
Online resources, including a lesson plan and toolkit, were developed under the auspices of a National Endowment for the Humanities grant in 2017 so teachers can develop their own veterans oral history projects for their students.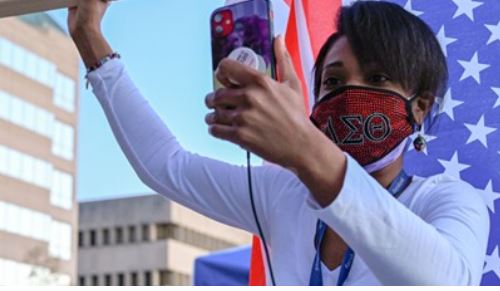 Voices & Votes Electoral Engagement Project
VVEEP was a multi-format project that took place between October 2020 and March 2021 and consisted of three components:
Grants to nonprofits to support projects that engaged and benefitted Marylanders, on such topics as voting during a pandemic, suffrage, the power of protest, voting rights, voter suppression, contested elections, and ideological polarization, social media and democracy, rural/urban divide in voting, the electoral college, and voter apathy
An oral history collection in conjunction with Maryland Humanities' Museum on Main Street and Maryland Voices programs and The Peale that featured stories from people who were first-time voters in 2020. You can view these recordings on our YouTube channel.
Why It Matters: Reckoning with Race. Equity. Allyship., an author event featuring Kimberly Jones and Gilly Segal discussing their book, I'm Not Dying With You Tonight, as well as the recent resurgence of our country's reckoning with racial inequity, and reaching beyond platitudes to enact change, in a conversation moderated by Christine Platt
VVEEP was made possible by a grant from the Andrew W. Mellon Foundation administered through the Federation of State Humanities Councils for its new initiative entitled "Why It Matters: Civic and Electoral Participation."