Maryland Student Wins Gold Medal in National History Competition
June 21, 2019
17 Maryland Students Receive Honors at National History Day
(Baltimore, MD) – A Maryland student, Howard County's Addie Skillman, won the gold medal in her category at National History Day, held June 9 –13, 2019 at University of Maryland in College Park.  Sixteen other Maryland students received Special Prizes, were awarded Outstanding State Entry, or were selected as a Finalist. A total of 62 students from Maryland competed at this year's national competition.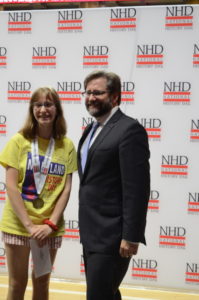 The National History Day competition involves more than 3,000 students in the final stage.  Over a half-million students participate at the school, district, state, and national levels. Competitors traveled to College Park from all 50 states, District of Columbia, Puerto Rico, Guam, American Samoa, and international schools in China, Korea, and South Asia.
All Maryland participants at National History Day won first or second place at the Maryland History Day competition, a culmination of the year-long Maryland History Day program presented by Maryland Humanities. For Maryland History Day, an affiliate of National History Day, students create original documentary films, exhibits, performances, research papers, or websites exploring a historical topic of their choice on an annual theme.

Skillman, who attends Elkridge Landing Middle School, won the gold medal for Junior Individual Performance for her project on Loving v. Virginia.  The following students received other honors: Charlotte Moss of Anne Arundel County; Katherine Giroux of Baltimore City; Anna Ims, Ashleigh Lourcey, and Zari Archer of Calvert County; Levi Peterson of Frederick County; Hannah Chan, Phoebe Chan, Ellie Hasegawa, Serena Goyal, and Joseph Heitzmann of Howard County; and Aidan Goldenberg-Hart, Daniel Greigg, Joey Huang, Eli Protas, and Charles Shi of Montgomery County.
See the full list of National History Day honorees from Maryland.