Author who chronicled Flint water crisis and its aftermath coming to Maryland for book tour
November 4, 2019
The Baltimore Sun and The Carroll County Times, November 1, 2019
by Mary Grace Keller
*****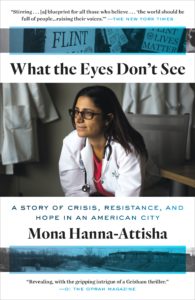 When Dr. Mona Hanna-Attisha took a job in Flint, Michigan, she didn't expect to become a New York Times Notable Book author for writing about the water crisis that would plague her patients.
Hanna-Attisha didn't know one day she would play a role in uncovering the tainted water, helping to lead recovery efforts and testifying before Congress. But she did.
For these efforts, the pediatrician was named one of TIME magazine's top 100 most influential people of 2016.
"I never intended to be an author," Hanna-Attisha said in an interview Friday. "I did not go to medical school to write a book. But then again, I never intended to kind of be in the middle of this, you know, emblematic public health and environmental crisis."
Hanna-Attisha penned a book about her experiences, titled, "What the Eyes Don't See: A Story of Crisis, Resistance, and Hope in an American City." She's making six stops in Maryland on her book tour with Maryland Humanities through Tuesday. Hanna-Attisha will visit Baltimore, Sykesville, Hagerstown, La Plata, Wye Mills, and Abingdon to speak and sign books. All tour events are free to attend, but seats are available on a first-come, first-served basis.