'Crossroads' delves into rural landscape
September 30, 2022
Southern Maryland Newspapers/Maryland Independent,  September 20 2022
by Michael Reid
*****
No need to fight traffic, pay for parking or fight the crowd as the Smithsonian Institution has come to Southern Maryland with its "Crossroads: Change in Rural America" traveling exhibit.
Maryland Humanities recently announced the first four sites for the exhibit, including Serenity Farm in Benedict, which will kick off the show.
The exhibit, which will be at Serenity Farm through Oct. 14, will then travel to three other sites — a fifth site will be announced at a later date — and each location will host the exhibition for six weeks in order to develop a complementary exhibit highlighting their community's heritage and histories.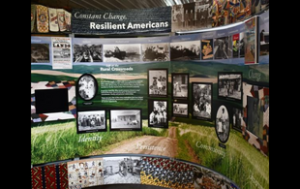 "People should see the exhibit because it gives perspective to the changes we see around us," Destination Southern Maryland and Southern Maryland Heritage Area Executive Director Lucille Walker said in a telephone interview. "It helps to understand that what we see here in Southern Maryland is happening throughout the rural landscapes of America."