For Gambrills resident Bill Grimmette, portrayal of Frederick Douglass pays homage to a pioneer of justice"
July 24, 2018
The Baltimore Sun and The Capital Gazette, July 13, 2018
by Janeane Holzberg
*****
Dressed in a frock coat and vest, Bill Grimmette dons an untamed gray wig and salt-and-pepper mustache and beard to complete his physical transformation.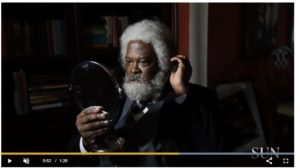 But looking the part is only the beginning.
Replicating the considerable oratorical skills of Frederick Douglass presents another level of challenge altogether, one the Gambrills resident has 20 spent years mastering through his work as a living history dramatist.
Grimmette will perform Saturday at the Crofton Community Library as the Marylander who rose up from slavery to become an abolitionist leader and famous speaker. The free program, called "Seeking Justice: 2018," will commemorate the 200th anniversary of Douglass' birth in 2018.
For most people, there's still much to be learned about Douglass' life and legacy, says Grimmette, a retired Army major.
This includes those who may think they already know a lot about the Talbott County native whose exact birth date was never recorded and who never attended school, he said.
Grimmette should know. The 74-year-old actor — who served in Vietnam and Korea and spent his last years of military service at the Pentagon — continues to read books and articles by and about Douglass, even though he's been portraying him for decades.
"The man was just so fascinating," he said. "I can't get enough of him."
Grimmette, who's been acting for 50 years, has been especially in demand this year in Maryland and neighboring states for his convincing impersonation of Douglass, who died in 1895 at age 77.
His portrayals — which also have included re-enactments of Martin Luther King Jr., Benjamin Banneker and W.E.B. DuBois — are billed as Chataugua shows, in which actors delivers monologues as historical figures and stay in character to field audience questions.
The Chataugua events, derived from a performance style that originated in upstate New York in the 1870s, are sponsored by Maryland Humanities, a nonprofit based in Baltimore.