Four New Members Join Maryland Humanities Board of Directors
October 24, 2019
New members reside in Allegany County, Anne Arundel County, Baltimore City, and Howard County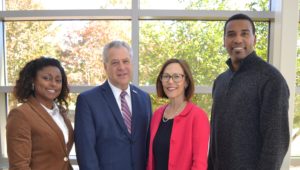 (Baltimore, MD) – Maryland Humanities is pleased to welcome four new members to the organization's Board of Directors.  They join 22 other volunteers in service.  The new Board Members are: Dr. Ronald Nowaczyk, Allegany County; Carmel Roques, Howard County; Sharon Whitney, Anne Arundel County; and Jayson Williams, Baltimore City.
In addition to the five new members, the Board of Directors includes: Cynthia Raposo (Chair), Montgomery County; Keith Stone (Vice Chair), Baltimore City; Dr. Scott Casper (Secretary), Howard County;, James (Jim) Cornelsen (Treasurer), Charles County; The Honorable Ronald (Pete) Lesher, Jr. (Government Liaison), Talbot County; Allyson Black, Anne Arundel County;  Dr. Mary Kay Finan, Allegany County; Rian Hargrave, Baltimore City; Mary Hastler, Harford County; Mark Irwin, Montgomery County; Julia (Julie) Madden, Howard County; Dr. Tahira Mahdi, Baltimore County; Tiffany McGhee, Baltimore County; Heather Mitchell, Howard County; Dr. Maarten Pereboom, Wicomico County; Jeanne Pirtle, St. Mary's County; The Honorable Gale Rasin, Kent County; Thomas (Tom) Riford, Washington County; Dr. Nancy Rogers, Montgomery County; The Honorable Stephen (Steve) Sfekas, Baltimore City; Jennifer Shea, Montgomery County; and Guffrie Smith, Calvert County.
RONALD NOWACZYK has served as President of Frostburg State University since 2016, bringing nearly four decades of higher education experience to his position. He previously served in numerous positions in higher-education administration, including Provost and Vice President for Academic Affairs at Clarion University (2011–16)­­, Dean of the College of Arts and Sciences at the University of New Haven (2006–11), Associate Vice Chancellor for Economic and Community Development at East Carolina University (2003–06), and Chair of ECU's Department of Psychology (1998–2002). Beyond academia, Nowaczyk served as Human Factors Research Consultant at AT&T Bell Laboratories (1989–90), and as a visiting scientist at the Institute for Computer Applications in Science and Engineering at NASA Langley Research Center in 1997. He serves on the Maryland Governor's P-20 Leadership Council and on the Boards of Directors of the Western Maryland Health System, Allegany County Chamber of Commerce, Campus Compact Mid-Atlantic (Chair), and Bishop Walsh School. He has his BA from Northwestern University and his MA & PhD from Miami University (Ohio). (Allegany County)
"I am honored to be on the Board of Maryland Humanities," says Nowaczyk. "An appreciation of the humanities is essential for lifelong learning and enhancing one's community.  As an educator, I value how the humanities help each of us be a better person."
CARMEL ROQUES is an accomplished healthcare executive with more than 30 years' experience leading and repositioning senior living organizations.  She has served as the President and CEO of Keswick Multi-Care since 2011. Her areas of expertise include community health, palliative care, strategic planning, organizational development, and culture change, with clinical expertise in brain health and dementia.  She is a licensed nursing home administrator in Maryland and Virginia and licensed clinical social worker. Prior to her start at Keswick, she served as the chief Operating Officer for Virginia United Methodist Homes, responsible for the strategic leadership and daily operation of seven senior living campuses throughout Virginia.  Her career in Maryland has included the roles of Chief Operating Officer at EMA, Sykesville, Executive Director of Copper Ridge, and Director of Home Care and Adult Day Care for Catholic Charities Baltimore. (Howard County)
"I was fortunate to be raised in a home that was rich in books, art, music and great conversation and raised my children in a similar environment," Roques says. "Now I have precious grandchildren and I can think of no better way to ensure a vibrant and viable future for them and their world then to support the humanities in our daily lives."
SHARON WHITNEY is a Senior Project Manager with the Whiting-Turner Contracting Company. She joined Whiting-Turner after receiving her Bachelor of Science degree in Civil Engineering from The University of Delaware in 1998. In her 21-year career at Whiting-Turner, Whitney has managed projects in Frederick, Howard, and Montgomery Counties in Maryland, as well as in Washington, DC and Virginia. She served as the President of the Hebron Harman Elementary School Parent Teacher Association:  she  is passionate about working with other parent volunteers to provide programs that offer opportunities for students to apply critical thinking in fun ways and to learn about some outside-the-box career opportunities. She served on the Board of Directors for the Boys and Girls Clubs of Greater Washington DC for five years and as a member of the Women's Leadership Group for the Boys and Girls Clubs of Greater Washington, DC for four years. Whitney is married with two children that she is extremely proud of and currently resides in Hanover. (Anne Arundel County)
"I am inspired by the ongoing collaborations within Maryland Humanities to build stronger communities and encourage lifelong learning," says Whitney. "As a resident of Anne Arundel County, I look forward to building on these existing collaborations and engaging in new partnerships to strengthen our future together."
JAYSON WILLIAMS is President and CEO of MD Strategic Consulting, a public affairs firm he founded in 2015. A lifelong Maryland resident, he began his career with a Baltimore-based political consulting firm, managing local political campaigns, and working on the staff of Maryland State Senate President Thomas V. Mike Miller. His career has included senior-level campaign work for U.S. Senator Barbara Mikulski during her 2004 re-election and Congressman Ben Cardin during his successful 2006 senatorial election. Williams' work has also spanned the non-profit sector where he served as the Maryland Political Director for the Laborers International Union of North America, overseeing local, state, and federal lobbying efforts as well as the organization's public activism & business partnerships. In 2010, he was appointed Senior Aide to County Executive Rushern L. Baker, III, and was charged with helping him execute his vision for Prince George's County: making the County the top economic engine in the Washington Region. In November 2016, Baltimore Business Journal recognized Williams as one of the publication's 40 Under 40 for his growing business and public service. (Baltimore City)
"I am humbled by this appointment and honored to represent our state and the humanities on such a distinguished board," said Jayson Williams. "In my own philanthropy and business endeavors, I have seen the critical role that the humanities play in developing vital, well-rounded communities. It is my hope that each new member of the Board, including myself, will offer our expertise and knowledge to advance Maryland Humanities' mission to foster learning, understanding, and appreciation of our people, communities, and cultures."
Anyone interested in discussing board service may contact the organization at (410) 685-0095.