Get to know best-selling author Tommy Orange, coming soon to Salisbury University
October 11, 2023
The Salisbury Daily Times/DelmarvaNow.com
by Olivia Minzola
October 11, 2023
*****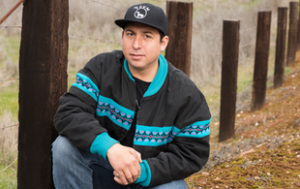 National best-selling author Tommy Orange is headed to Salisbury, and he wants to meet you.
Tommy Orange (Cheyenne and Arapaho) is set to make a special appearance at Salisbury University on Oct. 12 at 7 p.m. for a public conversation with Isabel Quintana Wulf of the English Department, followed by an audience Q&A and book signing.
There There was chosen as the 2023 One Maryland One Book by a selection committee of 20 Marylanders, including teachers, scholars, librarians, writers, booksellers and community workers, representing 10 counties and Baltimore City.
According to Maryland Humanities, released in 2018, There There tells the interconnected stories of a cast of 12 Native characters from across generational lines, as they converge toward the Big Oakland Powwow.
"There There provides us an opportunity to connect with several Native American lives that feel immediate and relevant to the world today," Executive Director of Maryland Humanities Lindsey Baker said in a news release.
"These characters are deeply rooted in their rich, often traumatic histories, yet are instantly recognizable to any reader. Tommy Orange shares with us their triumphs and their struggles, creating fully-rounded characters and journeys to follow," Baker added.
From Oakland roots, a sports lover becomes 'major fiction reader'
Tommy Orange was never a big reader.
"I wasn't really interested in books," he said. "My connection to our local public library was reading during the summer in order to get Oakland Athletics tickets. I was much more into sports."