Huelskamp named National History Day winner
July 2, 2020
The Garrett County Republican, June 25, 2020
by Brenda Ruggiero 
*****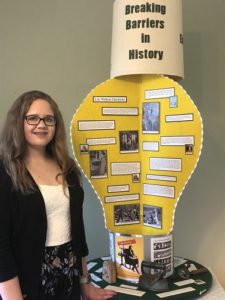 ACCIDENT — Laura Huelskamp, a Northern Middle School eighth-grade student, is a National History Day gold medal winner.
This is the first time that a Garrett County student has won at the national level in this competition.
"We are so excited about this honor," said Amanda Wilburn, Social Studies Department chair at NMS. "Laura won the gold medal award in the Junior Individual Exhibit Category for National History Day at the national competition hosted by University of Maryland, College Park. "Due to the pandemic, the competition was held virtually this year, with students submitting their projects online."
Huelskamp's project, titled "Aren't Lights Grand?: Breaking Barriers in History with Rural Electrification," details how rural electrification changed the life of people in rural areas, particularly Garrett County.
She began her project by choosing a topic last summer and researching it using primary and secondary sources. She conducted interviews with members of the community, analyzed her research and created a three-dimensional exhibit on a turntable using historical artifacts, objects she produced, historical documents and her conclusions about the various barriers broken when electricity was finally made available to people in rural America.