'It really is taken for granted': New Water/Ways exhibit opens at Calvert Library
February 18, 2020
Calvert Recorder, February 5, 2020
by Michael Reid (All images here by author)
*****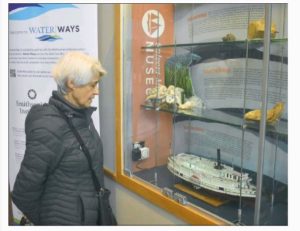 It was somewhat symbolic that as it rained outside, inside the Calvert Library was celebrating water with the opening of its Water/Ways exhibit with a special reception on Jan. 25.
The exhibit, which tells Calvert's local water story through video, music, poetry and special guests, is part of the Maryland Humanities Museum on Main Street program.
"I actually woke up and heard the rain coming down and was pretty happy," Calvert Library Executive Director Carrie Willson said with a laugh. "I normally don't like a rainy day, but today I did."
The exhibit is the sixth and final stop of the Smithsonian's Museum on Main Street Series, which kicked off in Baltimore City in May 2019.
"We have been so excited because really the excitement is generated by the communities that get involved," said Theresa Worden, the program manager of traveling exhibitions and program evaluating for Maryland Humanities. "We're never really sure what will happen [within each city], but the enthusiasm that they bring to it, especially as a way to showcase their community to show off what they can do has been so phenomenal."
The exhibit takes up much of the space within the front door of the library and consists of exhibits covering topics as harnessing the power of water, agriculture, pollution, home, sources and inspiration.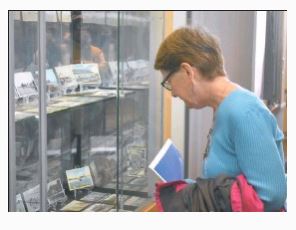 "I'm glad that people are being taught and given the opportunity to understand the importance of water and how it impacts us and how we use it," said Cindy Peil of Dunkirk. "It really is taken for granted. [The exhibit is] beautiful, and it has a lot of interesting information."
"We came for storytime," said Amanda Adams of St. Leonard, who was with her 4-year-old daughter, Harper, "but this is really cool. The artwork is amazing."
Harper Adams was particularly mesmerized by the augmented reality sandbox, which allows users to see the effects of water on terrains during regular rainfall, drought or flood.
But it wasn't only youngsters that were enthralled with the sandbox. The colorful lights and ability to carve out rivers, lakes and streams all made Worden late to the exhibit.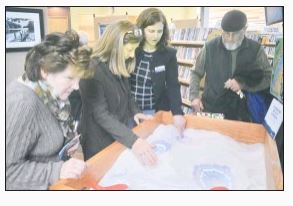 "I had heard about the augmented reality sandbox, but I didn't get to see it," she said, "but as I was setting it up yesterday and we were getting ready to leave, I was like, 'OK, I'm going to get to play with it.' It's very cool."
High school students also added to the exhibit by making documentaries on the various effects water has on the economy and everyday life.
"It was a lot of fun and gave us a lot of new experiences like working with new technology and doing interviews," said Calvert sophomore Charisma Duff, who teamed up with fellow students Emily Michalko and Justin Galvin to produce a 6-minute documentary entitled "Water expansion and water conservation." "Our topic was buildings, so we kind of just veered that way. It was an experience, unlike any other."
County residents also added poetry and works of art, all associated with water, to the exhibit.
"I would say that [water is] such a broad topic," Worden said, "but with the videos and the interactive [exhibits], it really comes to life when the local stuff surrounds it. There's a lot of science, but there's also a lot of exploration and there's spirituality with the water and how it affects work and play."
Patuxent Voices performed at the opening reception and Maryland poet laureate Grace Cavalieri read some of her works.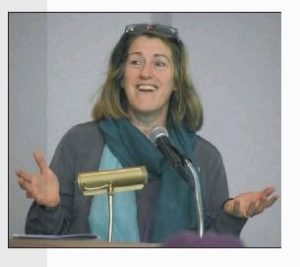 "It's very exciting, and the big thing is people's involvement where young people got an opportunity to engage in our local story and get excited about it," said Robyn Truslow, the library's public relations coordinator. "I hope this is also another way to draw people in and really tell their own story. I think [the exhibit] really shows that Calvert County really cares about water and our environment and is engaged in the community."
"I really love the synergy between what our schools have done and what the community has done," Willson said of the exhibit. "I had heard the dimensions, but I didn't understand the scope of it or literally how big it would be, but it's such a cool coming together of all this talent. It totally is a community project. It's so much better than what I expected." 
The exhibit will also feature special guest speakers and upcoming events before it closes Friday, March 6.
Some of the Water/Ways events that will take place to coincide with the exhibit:
Calvert Library Prince Frederick will hold a field trip to the Chesapeake Biological Laboratory in Solomons 10:30 a.m. to 3:30 p.m. Thursday, Feb. 6. Get an educational "behind the scenes" tour about research related to our local waterways. The event is for students in middle school and older. Space is limited.

Calvert Library Prince Frederick will hold a Fossil/ Visit Water/Ways event 2:30 to 3:30 p.m. Saturday, Feb. 8. The STEM-based program for grades K to 3 will feature a fossil show-and-tell, miniature excavation and a paleontologist will be on hand.

Calvert Library Prince Frederick will hold its Friends of the Library annual meeting complete with Water/Ways poetry and art 7 to 8 p.m. Wednesday, Feb. 12. Poetry books and art will be available for purchase with some of the proceeds going toward Friends of Calvert Library.

Calvert Library Prince Frederick will host a discussion titled Garden Smarter: Gardening During a Drought 10 to 11:30 a.m. Saturday, Feb. 22. Presenter Mariah Dean will explain how to choose drought-tolerant plants for different sun exposures and the best water conservation techniques and practices.
Calvert Library Prince Frederick will host a discussion titled Chesapeake Bay's Health & Yours 7 to 8:30 p.m. Wednesday, Feb. 26. Presenters Walter Boynton and Larry Polsky will discuss the health of the Bay, how it impacts health, and how things for all Chesapeake Bay watershed members can be improved as well as ecological changes that threaten both wildlife and humans.
For more information, call 410-535-0291 or go to http:// CalvertLibrary.info.