Maryland History Day Students and Teacher Honored at State House on January 29
January 31, 2018
Educational Program Coordinated by Maryland Humanities Now In Its 19th Year
(Annapolis) –  Nineteen outstanding Maryland middle and high school history scholars received recognition from State Senators and Delegates for their awards or honors received at National History Day. In order to participate, students must place at Maryland History Day, a Maryland Humanities program. Teacher Gary Thompson, from Southern Middle School in Garrett County, was also recognized for being named Maryland History Day Teacher of the Year in 2017.
Maryland History Day is a year-long educational program with more than 27,000 middle and high school student participants that culminates in a statewide history contest.  Working solo or in small groups, students create original documentary films, exhibits, performances, research papers, or websites exploring a historical topic of their choice on an annual theme. In 2018, students from 20 Maryland counties and Baltimore City compete at school, district, state, and national levels. 
Maryland History Day, coordinated by Maryland Humanities since 1999, is open to public, private, parochial, and homeschool students in grades 6 through 12.  This year's Maryland History Day state competition will take place on Saturday, April 28, 2018 at the University of Maryland, Baltimore County.  The theme of this year's competition is Conflict and Compromise in History.
National History Day involves more than 3,500 students from 50 states plus the District of Columbia, Guam, American Samoa, and international schools in China, Korea, and South Asia. The competition occurs at the University of Maryland, College Park annually: this year's dates are June 10–14, 2018.
Support for Maryland History Day is provided by the State of Maryland through the Maryland State Department of Education, Old Line Bank, Alvin and Fanny B. Thalheimer Foundation, Columbia Gas, and others.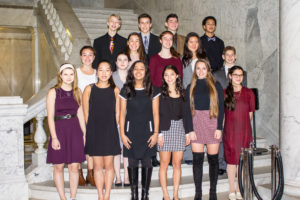 Honorees (by county):
Anne Arundel County:
Bronwyn Patterson, Annapolis Middle School
Baltimore City:
Tejal Schwartz, Roland Park Elementary Middle School
Calvert County:
Abigail Setzland, Northern Middle School
Tyler Cassidy, Plum Point Middle School
Edward Williams, Plum Point Middle School

Frederick County:
Christopher Pondoc*, Frederick High School
Jamie Roan*, Frederick High School
Garrett County:
Mr. Gary Thompson, Southern Middle School — Maryland History Day Teacher of the Year 2017 
Howard County:
Nicole Bachman, Lime Kiln Middle School
Jake Blum, Howard High School
Sonia Goyal, Lime Kiln Middle School
Emmeline Murphy, Ellicott Mills Middle School
Sydney Shin, Lime Kiln Middle School
Jason Taylor, Ellicott Mills Middle School
Montgomery County:
Theresa Dollar, Poolesville High School
Matthew Heymann*, Bullis School
Na Hye Kim, Poolesville High School
Matthew Palatnik, Poolesville High School
Maria Phelps, Poolesville High School
Alice Walker, Poolesville High School
* – honored in absentia