Maryland History Day Winner Named Student Ambassador with The National WWII Museum
January 31, 2018
(Baltimore, MD) – Maryland Humanities is pleased to announce that the National WWII Museum selected Molly Bingham, a 2017 Maryland History Day winner, as one of the Museum's Student Ambassadors for 2018.
Bingham won first place in the individual documentary category at Maryland History Day, a Maryland Humanities program. Maryland History Day is a statewide history contest with more than 27,000 middle and high school student participants. Because she won first place, the senior at Marriotts Ridge High School in Howard County advanced to National History Day, where she was a finalist. Bingham also advanced to National History Day in 2015.  It was Bingham's involvement in Maryland History Day and National History Day that led her to be a candidate for the ambassadorship with the National WWII Museum: the museum selects ambassadors through a competitive application process only from national high school students who competed at National History Day.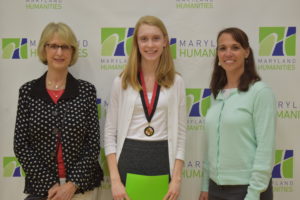 Each year, eight high school students become official Museum Student Ambassadors with the responsibility to identify local WWII veterans and collect their oral histories. Since the program launched in 2015, the National WWII Museum's Student Ambassadors have collected more than 100 oral histories in communities across the country. Those histories are archived in the Museum's collection to be preserved in perpetuity.  Since its founding, the National WWII Museum in New Orleans has collected nearly 10,000 first-person accounts of the war that changed the world. The collection of oral histories not only serves as a cornerstone for current and future exhibitions, but will serve as an invaluable source for historians, researchers, filmmakers, and future generations.
"We're losing our World War II veterans at a rapid rate, so the stories and memories of the Greatest Generation have never been more valuable," says Adam Foreman, the Student Programs Specialist at the National WWII Museum. "We're thrilled to have the most dedicated students around the country helping us collect these personal accounts. Through this effort, the Museum teaches students valuable skills, including conducting interviews, writing, and audio and video technology – all while developing tangible connections in individual communities."
Bingham maintains a 4.0 GPA.  In 2017, she received the Rensselaer Polytechnic Institute Medal Award, which carries with it a $100,000 scholarship to the Institute if she chooses to attend the school. Bingham resides in Woodstock, MD.