Maryland History Day Winners Chosen to Compete at National History Day Contest In June
May 11, 2016
63 Students Advance; 51 Receive Special Awards
(Baltimore) — More than 650 talented middle and high students, along with their proud parents and teachers, converged on the campus of the University of Maryland, Baltimore County on Saturday, May 7, 2016 to compete in the annual Maryland History Day state contest. Representing 10 counties and Baltimore City, 63 students were selected to advance to the National History Day competition.  Additionally, 51 students won special awards at the contest.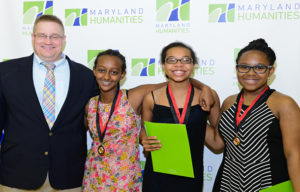 A program of Maryland Humanities now in its seventeenth year, the statewide competition involves over 24,000 students at the school level, representing 18 counties and Baltimore City.  Students research topics that address the National History Day theme and participate in school and county competitions to qualify for the state contest. The 2016 theme is Exploration, Encounter, Exchange in History.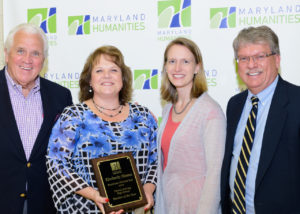 Winners were chosen at their district level for both individual and group efforts from five different categories—research papers, exhibits, performances, websites, and documentaries. First and second place winners will represent Maryland at the Kenneth E. Behring  National History Day competition June 12–16, 2016 at the University of Maryland, College Park.  Students from Allegany, Calvert, Charles, Garrett, Howard, Frederick, Montgomery, Prince George's, Washington, and Wicomico counties and Baltimore City will represent Maryland at the national contest.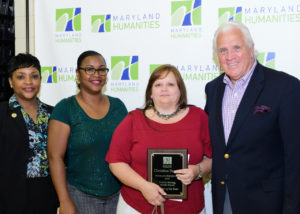 Special Prizes and Teacher Awards
In addition to first and second place medals, 36 special
prize plaques and cash awards were presented to students during the awards ceremony.  Teachers in 14 counties and Baltimore City also received district awards, and two teachers received statewide recognition.  The Patricia Behring Middle School Teacher of the Year for Maryland was awarded to Christina Doepel of Greenbelt Middle School in Prince George's County.  Kimberly Sloane of Allegany High School in Allegany County received the Patricia Behring High School History Day Teacher of the Year for Maryland.
A complete list of advancers, special prize winners, and teacher awards is available on our website.
Maryland History Day is presented by Maryland Humanities in partnership with National History Day; University of Maryland, Baltimore County; and participating school districts. Generous support has been provided by the Maryland State Department of Education; Library of Congress Teaching with Primary Sources Eastern Region Program, coordinated by Waynesburg University; The Alvin and Fanny B. Thalheimer Foundation, Fiat Chrysler Automotive Foundation, and Dorothy Wagner Wallis Charitable Trust. Additionally, individual project categories were sponsored by Columbia Gas of Maryland, SAI, Wegmans, The Whiting-Turner Contracting Company, and Ziger/Snead LLP.
Maryland Humanities is a statewide, educational, nonprofit organization. Maryland Humanities creates and supports educational experiences in the humanities that inspire all Marylanders to embrace lifelong learning, exchange ideas openly, and enrich their communities. For more information, visit www.mdhumanities.org. Maryland Humanities is supported in part by the National Endowment for the Humanities, the State of Maryland, and the William G. Baker, Jr. Memorial Fund, creator of the Baker Artist Awards.