Maryland Humanities Announces New Board Chair
December 21, 2022
Parkville resident Alicia Jones McLeod takes leadership role at statewide nonprofit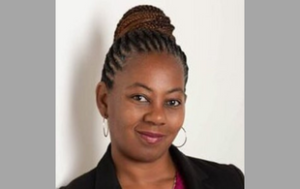 (Baltimore, MD) – Maryland Humanities is excited to announce Alicia Jones McLeod as the new Chair of the organization's Board of Directors. McLeod serves as the Executive Director of Challenging Racism, an organization whose focus is to empower and inspire people to disrupt racism one compassionate conversation at a time.  Prior to her time there, the Baltimore County resident led Ellicott City Partnership and founded the Maryland Black Chamber of Commerce, which continues to raise the profile of Black-owned businesses. McLeod joined the Maryland Humanities Board in 2020 and sits on the organization's Racial Equity Working Group, Executive Committee, and Finance Committee.
"I'm thrilled for Maryland Humanities to have Alicia as our Board Chair," says Lindsey Baker, Executive Director of Maryland Humanities. "Her own experience as a nonprofit Executive Director puts her in a great position to help Maryland Humanities thrive. Alicia also has a deep understanding in how to operationalize racial equity, and has already helped move Maryland Humanities forward in that realm."
"I believe in the ability of the humanities to change the hearts and minds of people in our communities. With the amount of division we face as a country, the humanities sit in a unique place to bring people together," says McLeod. "I also strongly believe in the leadership of Lindsey Baker and the direction she is taking the organization."
In addition to McLeod, the Board of Directors includes: Keith Stone (Vice Chair), Baltimore City; Carmel Roques (Secretary), Howard County; Dr. Ronald (Ron) H. Nowaczyk (Treasurer), Allegany County; Julia (Julie) Madden (Government Liaison), Howard County; Mary Hastler (Immediate Past Chair), Harford County; Kendra Brown, Prince George's County; Mollie Caplis, Baltimore County; Tahira Christmon, Howard County; Chanel Compton, Baltimore City; Mary Mateer Cummings, Garrett County;  Rachael Gibson, Montgomery County; Dr. Tuajuanda Jordan, St. Mary's County; Dr. Shauna Knox, Montgomery County; Soo Koo, Montgomery County; The Honorable Ronald (Pete) Lesher, Jr., Talbot County; Heather Mitchell, Howard County; Kimberly R. Moffitt, Baltimore County; Jeanne Pirtle, St. Mary's County; Dr. Nancy Rogers, Montgomery County; Jennifer Shea, Montgomery County;  Saima Sitwat, Baltimore City; Guffrie Smith, Calvert County; Dr. Marshall F. Stevenson, Jr., Somerset County; Sharon Whitney, Anne Arundel County; and Allyson Black Woodson, Anne Arundel County.
ALICIA JONES MCLEOD is the Executive Director of Challenging Racism. Previously, she led Ellicott City Partnership—a "Main Street" organization—and founded the Maryland Black Chamber of Commerce. Her tenure at each of her places of employment has been marked by the implementation of innovative ideas designed to raise the organization's profile and draw new supporters to the work. Jones McLeod is a resident of Parkville and is a M.P.A. candidate at The Biden School at the University of Delaware. She holds a B.S. in Marketing from Kean University in New Jersey. Jones McLeod and her partner, Terence, are the parents of three children: Richard (28), Alyssa (21) and Amanda (20) and their dog, Cleopatra.
Anyone interested in discussing board service may contact the organization at (410) 685-0095.