Maryland Humanities Executive Director Graduates from Leadership Maryland Class of 2022
December 12, 2022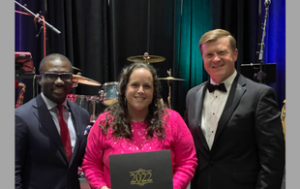 (Baltimore, MD) – Leadership Maryland recently announced that Lindsey Baker, Executive Director at Maryland Humanities, has graduated from the hands-on learning program. In a press release, Leadership Maryland describes itself as the "the professional development program dedicated to building a better Maryland by harnessing the strength of its local business and community leaders." The program honored Baker and the entire Class of 2022 at a graduation ceremony held December 6 at the Hilton Baltimore BWI Airport. As a graduate, Baker is now a member of Leadership Maryland's alumni network, consisting of more than 1,300 leaders from all industries and regions of the state.
Leadership Maryland selected Baker and 49 other applicants to complete the eight-month. The class participated in an orientation and closing retreat that bookended five, two-day sessions focused on Maryland's five main geographic regions and what Leadership Maryland calls "the most vital issues impacting economic development, education, health and human services, criminal justice, the environment, and multi-culturalism/diversity across the state." 
Baker, a resident of Laurel, has worked for fourteen years as an action-oriented, non-profit leader whose work has always been firmly grounded in community engagement, racial equity, transparency, and inclusivity. Prior to becoming the Executive Director of Maryland Humanities, she served as the Executive Director of Patapsco Heritage Greenway and spent nearly a decade as the Executive Director of the Laurel Historical Society.
Baker currently serves on the Federation of State Humanities Councils Racial Equity Committee, the Maryland 250 Commission, and the Board of Directors of Hike It Baby. Previously, she sat on the boards of the Anacostia Trails Heritage Area and Small Museum Association, the latter who has selected her for their 2023 conference keynote speaker.  She served on the Leadership Nominating Committee and Small Museums Committee for the American Association of State and Local History and was appointed Chair of the Small Museum Administrator's Committee of the American Alliance of Museums.  
"Participating in Leadership Maryland's twenty-ninth class was a unique opportunity to explore the most pressing issues facing the state of Maryland and build relationships with leaders dedicated to making meaningful change in our state," says Baker. "One of Maryland Humanities' goals is to lift the field of humanities statewide, and I think what I learned through participation in Leadership Maryland and the relationships we built will move us forward in this goal. I look forward to strengthening these new relationships with fellow leaders from across the state."
"This has been a special class year, both for me as the new president and CEO, and for our organization, as we hosted our full program together, in person for the first time since 2019," said David Fike '16 (LM), president and Chief Executive Officer, Leadership Maryland. "The Class of 2022 came into this year eager and inspired, and they've maintained that enthusiasm throughout each of our sessions. This is a remarkable group of professionals, diverse in experience and talent, and we look forward to seeing how they will influence our state with the knowledge and connections they've gained this year."
Leadership Maryland is open to senior-level executives with significant achievements in either their careers and/or their communities. Leadership Maryland says that "ideal members have a desire to learn more about Maryland's most critical issues and a personal commitment to be a force for positive change in their organizations, their communities, and their state." For more information about Leadership Maryland, please visit www.LeadershipMD.org, call 410-841-2101 or email Info@LeadershipMD.org.
About Leadership Maryland
Leadership Maryland is a non-profit organization offering professional and youth development programs dedicated to building a better Maryland by harnessing the strength of its current and future leaders. Established in 1992, Leadership Maryland's professional development program selects as many as 52 diverse and accomplished executives from Maryland's public and private sectors each year to come together as a class for an eight-month learning program focused on the state's most vital social, economic and environmental issues. Leadership Maryland also offers Maryland Leadership Workshops (MLW), the state's premier leadership development program for middle and high school students. For more than 65 years, MLW has provided peer-led summer residential and community outreach programs that empower participants – known as delegates – to take ownership of their personal development as they grow in self-awareness, set measurable goals, and collaborate with peers in diverse groups. Together, Leadership Maryland and MLW have established thousands of Marylanders on their lifelong leadership path, equipped with the knowledge, skills, and connections needed to influence positive change in all aspects of their lives and within our state. To learn more, please visit leadershipmd.org or mlw.org.