Maryland Humanities Executive Director Phoebe Stein Announces Departure Effective February 2020
October 23, 2019
(Baltimore) – Maryland Humanities announces that executive director Phoebe Stein will depart from the organization, effective February 28, 2020. Stein has served as the executive director at Maryland Humanities for more than eleven years. A national search will be conducted to seek her replacement.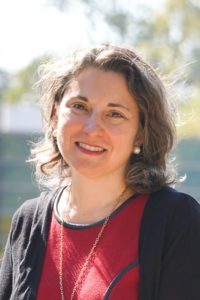 "My time with this outstanding organization has been professionally and personally life-changing—tremendously rewarding, productive, and enriching," says Stein. "Maryland Humanities is thriving—financially strong, conducting impactful and deeply relevant programming directed by a talented and committed staff, and governed by an engaged and effective board. I know the future is bright for Maryland Humanities. I have the fullest confidence in our team and our strong partnerships and know that our work bringing the joy and power of discovery to the State of Maryland will go uninterrupted in this transition."
Stein began her tenure at Maryland Humanities in July 2008. Cynthia Raposo, Chair of the Board of Directors says, "We have had the enormous good fortune to have such a smart, effective, and practical leader for so many years. Under her leadership, Maryland Humanities has experienced significant and meaningful growth in its programs, audiences, staff and financial support. Whether it was connecting Maryland History Day winners with their representatives at the Maryland State House and the US Capitol, introducing budding student authors to author Chimamanda Ngozi Adiche at our 2017 One Maryland One Book events, or fostering a responsive environment allowing us to explore criminal justice reform and launch a Humanities Fund for Baltimore in 2015, Phoebe has raised the bar for the organization and her successor."
During Stein's tenure, Maryland Humanities has significantly expanded its programming, partnerships, and resources—despite arriving just a few months prior to the Great Recession. The organization now offers more than one thousand free events annually in partnership with more than 500 organizations in 150+ communities statewide.
University of Maryland, Baltimore County President and former Chair of the Maryland Humanities Board of Directors Dr. Freeman A. Hrabowski, III, said this about Stein's coming departure, "The humanities help us reflect on our past, understand our present, and shape our future. Under Phoebe's leadership, Maryland Humanities has redoubled its efforts to bring lifelong learning in the humanities to every corner of the state, bringing people together in communities to connect across what may seem unbridgeable divides and recognize our shared humanity. The result is a thoughtful and informed citizenry and thus a stronger democracy in our state. I join my colleagues at Maryland Humanities in thanking Phoebe for her many years of outstanding and dedicated leadership, and I look forward to the continued success of this vitally important organization."
While at the organization, Stein has also served as both Vice-Chair and a member of the Legislative Committee of the Federation of State Humanities Councils Board of Directors, the Advisory Board of Brotman Financial Group, the Social Studies Advisory Council of the State of Maryland, and the Maryland Preservation Heritage Council. She was recognized as one of "Maryland's Top 100 Women" by The Daily Record in 2016. Stein earned her B.A. in English from the University of Michigan and her M.A. and Ph.D. in English from Loyola University of Chicago.