Maryland Humanities Executive Director Selected for Leadership Maryland Class of 2022
March 4, 2022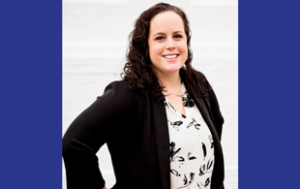 (Baltimore) – Leadership Maryland recently announced that Lindsey Baker, Executive Director at Maryland Humanities, has been chosen as one of 52 individuals to participate in the professional development program as a member of the Class of 2022. According to Leadership Maryland, the "hands-on learning program [is] focused on the state's most vital issues." More than 100 experts representing Maryland's business, government, education, and non-profit communities will serve as panelists and guest speakers. The program will run from April to December, and include five two-day sessions focused on Maryland's five main geographic regions and the most important issues impacting economic development, education, health and human services, criminal justice, the environment, and multi-culturalism/diversity across the state.
Baker has worked for fourteen years as an action-oriented, non-profit leader whose work has always been firmly grounded in community engagement, racial equity, transparency, and inclusivity. Prior to becoming the Executive Director of Maryland Humanities, Baker served as the Executive Director of Patapsco Heritage Greenway and spent nearly a decade as the Executive Director of the Laurel Historical Society.
Baker has served on the boards of the Small Museum Association and Anacostia Trails Heritage Area.  She  served on the Leadership Nominating Committee and Small Museums Committee for the American Association of State and Local History and was appointed Chair of the Small Museum Administrator's Committee of the American Alliance of Museums.  
 "I am thankful to be selected for Leadership Maryland's 29th Class," says Baker. "One of Maryland Humanities'  goals is to lift the field of humanities statewide, and I think my involvement in Leadership Maryland will help get us there. I look forward to forging new relationships with fellow leaders from across the state."
Leadership Maryland is open to senior-level executives with significant achievements in either their careers and/or their communities. Ideal Leadership Maryland members have a desire to learn more about Maryland's most critical issues and a personal commitment to be a force for positive change in their organizations, their communities, and their state. For more information about Leadership Maryland, please visit leadershipmd.org, call 410-841-2101 or email info@leadershipmd.org.