Maryland Humanities Receives $100,000 Library of Congress Grant
August 24, 2016
Grant Will Support Primary Source-Based Curriculum & Professional Development for Maryland Students and Educators in the Humanities
(Baltimore) –Maryland Humanities is pleased to announce that along with partners Maryland Public Television (MPT) and the Maryland State Department of Education it has been awarded a $100,000 grant from the Library of Congress through its Teaching with Primary Sources program. The grant will support the development of digital tools for primary document analysis, outreach to Maryland students, and professional development opportunities for Maryland educators in the humanities including social studies, language arts, and media.
Through the grant, Maryland Humanities will partner with MPT to create and distribute online inquiry kits for Maryland students and teachers who are engaging in primary document analysis and research projects. The online inquiry kits—which will bring together curriculum-themed primary sources, research tools, and interactive lessons—will be designed to provide a differentiated learning experience for students of all backgrounds and abilities, including English Language Learners and those with special learning needs. MPT's educational website, Thinkport.org, will host the online inquiry kits.
"We are thrilled to receive support from the Library of Congress Teaching with Primary Sources program for the development and distribution of digital resources that will significantly enhance lifelong learning experiences in the humanities for thousands of Maryland students and educators. Each year we engage more than 35,000 students and hundreds of teachers in Maryland through our educational programs like Maryland History Day and One Maryland One Book. This generous grant, along with our continuing partnership with Maryland Public Television and the Maryland State Department of Education, will allow us to inspire even more students and educators in the joy and power of discovery," said Phoebe Stein, executive director of Maryland Humanities.
"Thousands of educators across the state regularly visit Thinkport.org to access engaging instructional materials for the classroom, and the new inquiry kits will be a welcome addition," said Betsy Peisach, vice president of education at MPT.  "We are pleased to join Maryland Humanities and Maryland State Department of Education in providing these valuable digital learning resources to teachers and students."
"The development and distribution of online inquiry kits will be a great tool for Maryland teachers to utilize in their classrooms," said Bruce Lesh, coordinator of social studies for the Maryland State Department of Education.
Lee Ann Potter, director of Educational Outreach for the Library of Congress, said, "We very much look forward to welcoming Maryland Humanities and the other recipients of these grants into the TPS Educational Consortium, a community dedicated to increasing awareness and effective use of primary sources—and other educational resources made available by the Library—in K-12 classrooms."
More information about the Library of Congress Teaching with Primary Sources program and the twenty other grant recipients can be found at http://www.loc.gov/today/pr/2016/16-122.html.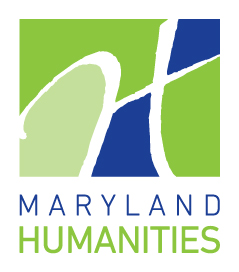 Maryland Humanities is a statewide nonprofit organization that creates and supports educational experiences in the humanities that inspire all Marylanders to embrace lifelong learning, exchange ideas openly, and enrich their communities. For more information, visit www.mdhumanities.org. Maryland Humanities is supported in part by the National Endowment for the Humanities, the State of Maryland, and the William G. Baker, Jr. Memorial Fund, creator of the Baker Artist Awards.