Maryland Student's Documentary Featured in Series from 400 Years of African American History Commission
November 6, 2023
(Baltimore, MD) – The 400 Years of African-American History Commission (400 YAAHC) features a documentary by S. Abigail Giroux, who attends The Bryn Mawr School, in a new docuseries titled Frontiers in History: People, Places, Ideas.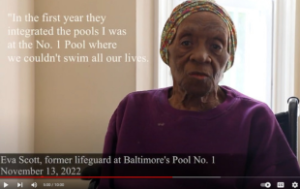 Giroux created Wade in the Water: How African Americans Got Back Into the Pool for Maryland History Day, a program of Maryland Humanities. The program includes a statewide contest, where Giroux won First Place in her category. She then advanced to the National History Day® Contest, where she took home a Gold Medal. Giroux's documentary joins seventeen others created by National History Day participants.  The title of the five-part docuseries—which premiered October 2 on the Commission's website and Smogo TV streaming channel—comes from National History Day's 2023 theme of Frontiers in History. Viewers can access the docuseries here.   
"The National History Day Docuseries presented by the 400 Years of African American History Commission showcases student-produced documentaries," said 400 YAAHC Commissioner and author Hannibal Johnson, Esq. "Evident in this body of work is student research, analysis, and synthesis — the brilliance of young minds guided, but not directed to new discoveries."
Over a half-million students participate at the school, district, state, and national levels of National History Day. For this year's contest, competitors traveled to College Park, Maryland from all fifty states, District of Columbia, Puerto Rico, Guam, American Samoa, and international schools in China, Korea, and South Asia.
"National History Day is proud to partner with the 400 Years of African American History Commission to showcase some of our most outstanding student documentaries of 2023," said Cathy Gorn, Executive Director of National History Day. "We are especially proud of our students who have shown not only an interest in African American History but also who have researched many such stories not found in textbooks or classroom curricula and have had the courage to tell them."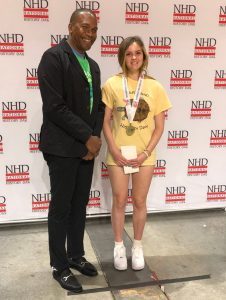 Advancers to the National History Day Contest typically have won first or second place at the Maryland History Day State Contest, a culmination of the year-long Maryland History Day program presented by Maryland Humanities. For Maryland History Day, an affiliate of National History Day, students create original documentaries, exhibits, performances, papers, or websites exploring a historical topic of their choice on an annual theme. The program sparks critical thinking and helps develop skills in research and analysis, writing, and public speaking. Students spend months researching primary and secondary sources while analyzing the historical significance of their topics and sharing their ideas. Maryland History Day is open to public, private, parochial, and homeschool students in grades 6 through 12.
"We may not know what the future holds, but we know who holds our future. Our youth," said Johnson. "If the National History Day Docuseries presented by the 400 Years of African American History Commission is any indication, we are in good hands indeed."
The docuseries includes the following student documentaries:
Part One:

The 54th Massachusetts: Pride Over Prejudice and a New Frontier of Freedom
Julia Kilvady (Pennsylvania)
The Frontier of Richmond: Battleground for Segregation
Michael Trownsell (Virginia)
The Port Royal Experiment: Crossing the Frontier From Slave to Freedman
 Joshua Baird, Thomas Cripe, and Anthony Herndon (South Carolina)

How Did Alabama Dry Dock and Shipbuilding Company Help Shape the Future of Mobile, Alabama
Dwayne Lockett-James (Alabama)
Part Two:
The Langston Blues
Camryn Carr (South Carolina)
Kansas City Jazz: A Frontier for Black Success
Mia Rasmussen (Kansas)
Idlewild: Black Eden The Town That Segregation Built
 Temple Lester (Georgia)
Part Three:
Unbought & Unbossed: Shirley Chisolm, Crossing the Political Frontier
Molly Budhiraja (Arizona)

Ella Baker: A Pioneer of Grassroots Movements
Sunmit Hallur, Michael Makhoul, and Esteban Pierrend (Arizona)
Althea Gibson: The Big Swing to Cross Colour Frontiers in Tennis
Aditi Chakravarti (NHD International)
Part Four:
Masterminds Behind the Movement: How Tougaloo College Advanced Civil Rights in Mississippi
Kiersten Burk, Jermarius Everett, and Grace Short (Mississippi)
A Frontier in Litigation: Charles Houston, Thurgood Marshall, Nathan Margold and the Fight to End Segregation in Education
Keavan Coale and Ian Morgan (Missouri)
Ruby Bridges: How One Six-Year-Old Became a Frontier in History
Sara Newitt (South Dakota)
Little Rock: A Frontier of the Cold War
Lawson Wright (New York)
Part Five:
Wade in the Water: How African Americans Got Back Into the Pool
Abigail Giroux (Maryland)
Loving v. Virginia: Frontiers in Civil Rights and Social Justice
Ashea Angel, Maya Huang, and Aubrey Denise Ventura (Hawaiʻi)
The Height of the Fight: Bill Russell as a Trailblazer for Activism in the NBA
Samuel Luther, Keyshawn Ragin, Wyatt Roth, and Malachai Shulman (Ohio)