Maryland Students Win Gold, Silver, and Bronze Medals in National Competition
June 23, 2022
19 Maryland Students Receive Honors at National History Day 
(Baltimore, MD) — A trio of Maryland students won the gold medal in their category at National History Day, held virtually June 12 –18, 2022.  Lillian Merrill, Saniya Pearson, and Aliyah Smith attend Accokeek Academy in Prince George's County: they created a performance entitled "Debate and Diplomacy on Education of the Deaf." Abe Stohlbach, a student at Thomas Johnson Elementary/Middle School in Baltimore City, took home a silver medal. Sabrina Wang and Helen Zhu of Burleigh Manor Middle School in Howard County each received a bronze. Thirteen other Maryland students received Special Prizes, were awarded Outstanding State Entry, or received another form of special recognition at this year's national competition, where 61 Maryland students competed.
The National History Day competition involved more than 2,500 students in the final stage this year.  Over a half-million students participate at the local level. Students from all 50 states, District of Columbia, Puerto Rico, Guam, American Samoa, and international schools in China, Korea, and South Asia participated in the event, conducted online this year due to the coronavirus.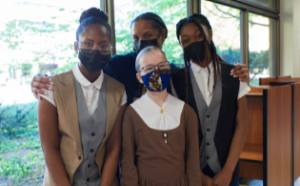 For Maryland Humanities' Maryland History Day program, an affiliate of National History Day, students create original documentary films, exhibits, performances, research papers, or websites exploring a historical topic of their choice on an annual theme. Advancers to National History Day typically have won first or second place at the state contest, a culmination of the yearlong program.
The following students received a Special Prize, were selected as a Finalist, or had their projects selected for a public showcase: Marshall Civin of Baltimore City; Simrah Khan, Ryan Tehrani, Charlotte Tettelin, Sakshi Tirodkar, Ryan Zhou, and Helen Zhu of Howard County; Dresden Benke, Grant Burthey, Dermott Foley, Parim Shah, and Nimay Sharma of Montgomery County, and one anonymous student from that district. Devin Page, who teaches at Northern Middle School in Calvert County, was one of six finalists nationwide for the Junior Division of the Patricia Behring Teacher of the Year Award. Burleigh Manor Middle School teachers Beth Berkeley, Robyn Page, and Geordie Paulus received the Naval Historical Foundation Teachers of Distinction Award. The school is located in Howard County.
See the full list of National History Day honorees from Maryland.