Remembering Marilyn Hatza
January 6, 2023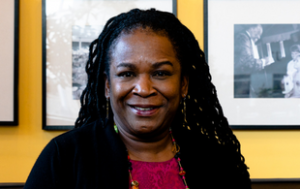 It is with profound sadness that Maryland Humanities shares that Marilyn Hatza, our Director of Grants and Community Engagement, passed away this Monday. 
Marilyn had a long, impactful career in Maryland.  She was dedicated and passionate about honoring, preserving, and when necessary reckoning with Maryland's history (which was often). Before joining the staff at Maryland Humanities, Marilyn had extensive experience in museum collection management, educational program development, and archives management. She served as the Preservation Services Director at Preservation Maryland. She also worked as an archivist at the AFRO-American Newspapers, where she secured a grant and worked to digitize the archives there for the first time. She also served as the Assistant Curator at the Howard County Center for African American History and Culture. Marilyn served on The Maryland Commission on African American History & Culture, as well as the Board of Directors for both Baltimore National Heritage Area and The African American Fire Fighters Historical Society. She was a pioneering member of the Maryland Lynching Memorial Project.
In 2014, Marilyn started her work with Maryland Humanities as Program Officer for Grants and Strategic Partnerships, leading our Grants and Regional Humanities Network programs. Marilyn built and grew our Regional Humanities Networks from scratch, bringing together humanities organizations from different sectors to collaborate, share resources, and find solutions to regional issues together.  In April 2021, she was promoted to a newly created position as the Director of Grants and Community Engagement and joined the Senior Staff.
Marilyn had a vision for and understanding of racial equity, and its relationship to grant-making and the humanities sector in Maryland. This is apparent in our SHINE Program, where Marilyn was central. She was the first staff member to propose providing general operating support to humanities organizations. Maryland Humanities' Racial Equity efforts started with her listening to the concerns of our grantees and then advocating that our work in diversity, equity, inclusion, and access must live throughout our entire organization, not just in the grants department.  
Marilyn was a leader in the state. Maryland Humanities "knew better and did better" because she was a part of the team. She deeply understood the needs of humanities organizations in Maryland, and her voice was essential.  
We know Marilyn was more than her work. She was self-possessed. Along with her strong convictions, she had a great laugh.
Phoebe Stein, the former executive director of Maryland Humanities who hired Marilyn and worked with her for many years, remembers her this way:  "Her legacy leaves us with a responsibility to carry on her work pressing for equitable change and educating about Maryland's history–from her birthplace and family roots in Cambridge to her decades-long home in Baltimore. Her passing leaves a deep void in our lives and in the communities she served." 
Lindsey Baker, Executive Director of Maryland Humanities shared, "We at Maryland Humanities will continue to deeply feel the loss of such a vital member of our team. With Marilyn's passing, the humanities sector in Maryland has lost a superstar and an advocate. Her vision was inspirational and challenged us all to do better."