State Senators and Delegates Honor Maryland History Day Students at State House
January 30, 2020
Maryland Humanities Marks 21st Year as State Affiliate of National Program
(Baltimore) – State Senators and Delegates recognized 17 outstanding Maryland middle and high school history scholars at the Maryland State House in Annapolis on January 27, 2020. The students were acknowledged for awards or honors they received at the 2019 National History Day competition. In order to participate at the national level, students must place first or second at Maryland History Day, a program of Maryland Humanities. Shelby Williams and Stephen Smith were also recognized for being named the Maryland History Day Middle and High School Teachers of the Year, respectively. Williams teaches at Lockerman Middle School in Caroline County, while Smith teaches at Washington High School in Somerset County.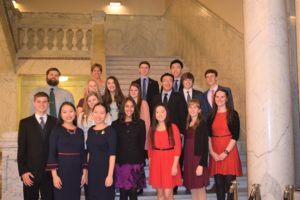 Maryland History Day is a year-long educational program with more than 25,000 middle and high school student participants that culminates in a statewide history contest.  Working solo or in small groups, students create original documentary films, exhibits, performances, research papers, or websites exploring a historical topic of their choice on an annual theme. In 2020, students from all of Maryland's 23 Maryland counties and Baltimore City will compete at school, district, state, and national levels. 
Maryland History Day, coordinated by Maryland Humanities since 1999, is open to public, private, parochial, and homeschool students in grades 6 through 12.  This year's Maryland History Day state competition will take place on Saturday, May 2, 2020 at the University of Maryland, Baltimore County.  The theme of the competition is Breaking Barriers.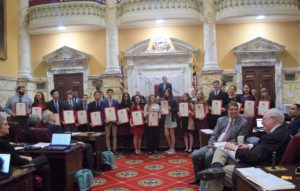 The annual National History Day competition involves more than 3,000 students from 50 states plus the District of Columbia, Puerto Rico, Guam, American Samoa, and international schools in China, Korea, and South Asia. The competition occurs at the University of Maryland, College Park annually: this year's dates are June 14–18, 2020.
Support for Maryland History Day is provided by the State of Maryland through the Maryland State Department of Education, Thalheimer-Eurich Charitable Fund, Old Line Bank, Columbia Gas of Maryland, Venable Foundation, and Wegmans.
Honorees (by county): Please note that schools listed are those that students attended during the 2018–19 school year.
Anne Arundel County 
Charlotte Moss*, Glen Burnie High School
Baltimore City
Katherine Giroux, The Bryn Mawr School
Calvert County
Anna Ims, Plum Point Middle School
Ashleigh Lourcey, Plum Point Middle School
Zari Archer, Plum Point Middle School 
Caroline County
Shelby Williams, Lockerman Middle School — Maryland History Day Middle School Teacher of the Year 2019
Frederick County
Levi Peterson*, Frederick Homeschooler
Howard County
Addie Skillman, Elkridge Landing Middle School
Hannah Chan, River Hill High School
Phoebe Chan, River Hill High School
Serena Goyal, Lime Kiln Middle School
Ellie Hasegawa, Lime Kiln Middle School
Joseph Heitzmann, River Hill High School
Montgomery County
Joey Huang, Winston Churchill High School
Aidan Goldenberg-Hart, Richard Montgomery High School
Daniel Greigg, Montgomery Blair High School
Eli Protas, Richard Montgomery High School
Charles Shi, Montgomery Blair High School
Somerset County
Stephen Smith, Washington High School — Maryland History Day High School Teacher of the Year 2019
* – honored in absentia