State Senators and Delegates Honor Maryland History Day Students
January 31, 2019
Maryland Humanities Marks 20th Year as State Affiliate of National Program
(Baltimore) – State Senators and Delegates recognized 21 outstanding Maryland middle and high school history scholars at the Maryland State House in Annapolis on January 28, 2019. The students were acknowledged for awards or honors they received at the 2018 National History Day competition. In order to participate at the national level, students must place at Maryland History Day, a program of Maryland Humanities. Thomas Crise and Samuel Spinder were also recognized for being named the Maryland History Day Middle and High School Teacher of the Year, respectively. Crise teaches in Queen Anne's County and Spinder teaches in Washington County.
Maryland History Day is a year-long educational program with more than 25,000 middle and high school student participants that culminates in a statewide history contest.  Working solo or in small groups, students create original documentary films, exhibits, performances, research papers, or websites exploring a historical topic of their choice on an annual theme. In 2019, students from 21 Maryland counties and Baltimore City will compete at school, district, state, and national levels.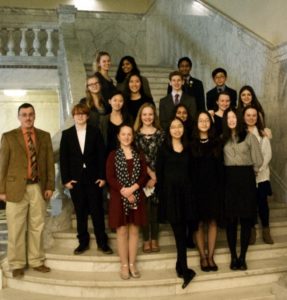 Maryland History Day, coordinated by Maryland Humanities since 1999, is open to public, private, parochial, and homeschool students in grades 6 through 12.  This year's Maryland History Day state competition will take place on Saturday, May 11, 2019 at the University of Maryland, Baltimore County.  The theme of the competition is Triumph and Tragedy in History.
The annual National History Day competition involves more than 3,000 students from 50 states plus the District of Columbia, Puerto Rico, Guam, American Samoa, and international schools in China, Korea, and South Asia. The competition occurs at the University of Maryland, College Park annually: this year's dates are June 9–13, 2019.
Maryland History Day is supported in part by Maryland State Department of Education, Old Line Bank, Thalheimer-Eurich Charitable Fund, Columbia Gas, Kinder Morgan Foundation, and Wegmans.
Honorees (by county):
Baltimore City:
Elise Longanecker, Thomas Johnson Elementary/Middle School
Morris Williams*, Roland Park Elementary/Middle Schoolmarylandpublicschools.org
Xandr Zabel, Roland Park Elementary/Middle School
Baltimore County
Sarah Broadwater, Catonsville Middle School
Kelsey King, Catonsville Middle School 
Ellie Lawson, Catonsville Middle School
Camryn Woods, Catonsville Middle School
Howard County:
Jake Blum, Howard High School
Abihith Velumuri, Burleigh Manor Middle School
Anjali Vidyasagar, Mayfield Woods Middle School
Colin Wang, Burleigh Manor Middle School
Montgomery County:
Holly Anderson, Poolesville High School
Anusha Chinthalapale, Poolesville High School
Julia Corfman, Poolesville High School
Angelica Frude, Eastern Middle School
Isabel Huntley, Poolesville High School
Calley Mullin*, Poolesville High School
Samantha Stewart*, Poolesville High School
Angela Wang, Poolesville High School
Paris Ye, Eastern Middle School
Lydia Yeh, Eastern Middle School
Queen Anne's County:
Thomas Crise, Stevensville Middle School — Maryland History Day Middle School Teacher of the Year 2018
Washington County:
Samuel Spinder, North Hagerstown High School — Maryland History Day High School Teacher of the Year 2018
* – honored in absentia