'The Book of Delights: Essays' by Ross Gay announced as 2021 One Maryland One Book
August 16, 2021
Baltimore Fishbowl, August 13, 2021
by Alyssa McKinney
*****
Maryland Humanities' pick for the 2021 One Maryland One Book, "The Book of Delights: Essays" by Ross Gay, reflects upon the small joyful moments that are often drowned out by the life's hectic din.
Maryland Humanities created the One Maryland One Book program in 2007, encouraging all Marylanders to read the same book and join discussions about the work. This year's theme is "hope."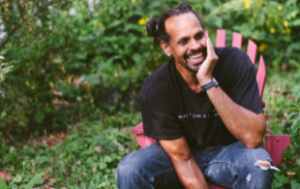 "I'm so grateful that The Book of Delights was chosen for One Maryland One Book," Gay said in the announcement on the Maryland Humanities website.