The City That Writes: 13 Baltimore Writers on The City's Past Literary Stars in 2022
February 28, 2022
The mysterious death, general strangeness, and undeniable genius of a certain macabre poet casts a large shadow over the city's literary legacy. But Baltimore's writing tradition is as rich and diverse as the city itself.
Baltimore Magazine, January 14, 2022
Edited by Ron Cassie
*****

Illustration by Tonwen Jones
Behind locked glass doors in the central branch of the Enoch Pratt Free Library's staff-only section sits a bank-style vault. Inside, safely stored for posterity, there's a letter penned by F. Scott Fitzgerald—who was living in Paris at the time—to H. L. Mencken, thanking the Sage of Baltimore for reading his just-published novel, The Great Gatsby. Mencken's diaries, at his request, are kept there, too, as well as Mencken's limited edition copy of James Joyce's Ulysses. There's also a handwritten copy of an Enoch Pratt-contest-winning rap by a young Tupac Shakur, plus a CD from "The Eastside Crew," the group that the rapper formed while he was a student three blocks away at the Baltimore School for the Arts.
Most memorably, if that's the right word, are locks of hair from Edgar Allan Poe and his teenage bride and first cousin Virginia, framed under glass, and a piece of his coffin.
It's funny how long story ideas can take to germinate. I am pretty sure the seed for this month's cover story, "The City That Writes," was planted 11 years ago when I got a behind-the-scenes tour of the Pratt—vault included—for an assignment for this magazine entitled, "Book Smart."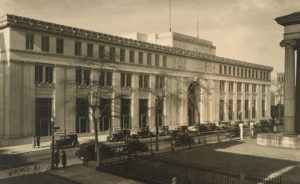 Since that tour, there have been countless other inspirations. A few years ago, I joined a Maryland Humanities Literary Walking Tour of Mount Vernon one weekend morning, and learned not just where Fitzgerald, Upton Sinclair, and Gertrude Stein, among other iconic figures, once lived in Baltimore, but the impact of the city on their work. One often-forgotten example: Fitzgerald's famous short story about the man who ages in reverse, "The Curious Case of Benjamin Button," was set in Civil War-era Baltimore. That walking tour—see our map below—is one of those things generally populated by visitors to the city, but we Baltimoreans could benefit even more from those kinds of tactile trips through the city's history, architecture, and artifacts. Also worth a visit, for those who haven't been, are the Edgar Allan Poe House and Museum in West Baltimore, and the recently restored H.L. Mencken home in Union Square. Both are designated National Historic Landmarks. Noteworthy as well: The poet Lucille Clifton's former Victorian home in Windsor Hills, where she wrote some of her most acclaimed works, is currently being transformed into an education center and writers retreat by her children.
One more not-to-be missed literary experience over the past decade has been the annual January 19 celebrations of Mr. Poe's birthday at Westminster Hall. One year, I met a woman who had been attending the accompanying late afternoon readings at his burying ground since the 1970s, when she came with her since-deceased husband on their first date. Once the pandemic has relented, hopefully we can return to the annual Baltimore Book Festival and the CityLit Festival, a project of the indispensable CityLit Project, as well.