Two New Members Join Maryland Humanities Board of Directors
November 4, 2021
Mastercard Public Policy VP and Interim Dean of the College of Arts, Humanities, and Social Sciences at UMBC Join the Statewide Organization
(Baltimore) – Maryland Humanities is pleased to welcome two new members to the organization's Board of Directors, Kendra Brown and Kimberly R. Moffitt, who reside in Prince George's County and Baltimore County, respectively. The Board of Directors has also appointed a Chair Elect, Alicia Jones McLeod (Baltimore County), who will succeed current Chair Mary Hastler (Harford County) in October 2022.  Carmel Roques of Howard County was also elected Secretary.
In addition to the new members and officers already mentioned, the Board of Directors includes: Keith Stone (Vice Chair), Baltimore City; James (Jim) Cornelsen (Treasurer), Charles County; Julia (Julie) Madden (Government Liaison), Howard County; Mary Callis, Garrett County; Chanel Compton, Baltimore City; Mark Irwin, Montgomery County; The Honorable Ronald (Pete) Lesher, Jr., Talbot County; Tiffany McGhee, Baltimore County; Heather Mitchell, Howard County; Dr. Ronald (Ron) H. Nowaczyk, Allegany County; Dr. Randy Ontiveros, Prince George's County; Soo Park, Baltimore County; Dr. Maarten Pereboom, Wicomico County; Jeanne Pirtle, St. Mary's County; Cynthia Raposo, Montgomery County; Thomas (Tom) Riford, Washington County; Dr. Nancy Rogers, Montgomery County;  Jennifer Shea, Montgomery County; Saima Sitwat, Baltimore City; Guffrie Smith, Calvert County; Sharon Whitney, Anne Arundel County; and Allyson Black Woodson, Anne Arundel County.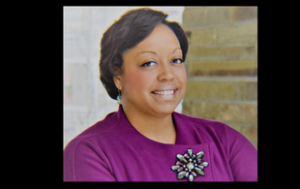 KENDRA BROWN currently holds the role of Vice President of Public Policy, Federal Affairs for Mastercard. She is also the Chair of the Maryland State Advisory Committee of the U.S. Civil Rights Commission. Previously, she was the Chief of Staff for Representative G. K. Butterfield (NC-01) in the United States Congress and Senior Director for Diversity, Inclusion, and Affinity for the Washington College of Law at American University where she led the law school's diversity and inclusion initiatives. Brown is a Former National Chair of the National Black Law Students Association (NBLSA). During her term as National Chair, NBLSA was active in election protection, leadership training and development, academic planning, career development, and extensive advocacy efforts. Brown received her law degree from Vermont Law School and attended the George Washington University School of Law for her Master of Laws. She completed her Master of Divinity at Howard University Divinity School, and her undergraduate studies at Hampton University. (Prince George's County)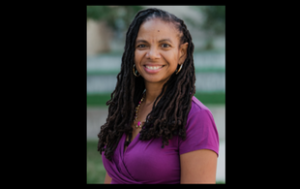 KIMBERLY R. MOFFITT is currently serving as Interim Dean of the College of Arts, Humanities, and Social Sciences at University of Maryland, Baltimore County (UMBC). Before assuming this role, she was Director of the Language, Literacy, and Culture Doctoral Program and a professor of Communication/Media Studies—as well as affiliate Professor of Africana Studies—at UMBC. A media critic whose research focuses on mediated representations of marginalized groups as well as the politicized nature of Black hair and the body, Moffitt has published several articles and book chapters, as well as five co-edited volumes, including Michelle Obama and the FLOTUS Effect: Platform, Presence, and Agency (Lexington Books, 2019). Along with Tunisia Lumpkin, Moffitt also maintains www.blackhairsyllabus.com. She writes op-ed articles for The Baltimore Sun and is a frequent guest on local public radio, television, and Internet broadcasting programs. Moffitt is the Vice President of the Board of the National Association for Media Literacy Education (NAMLE). (Baltimore County)
Anyone interested in discussing board service should review the opportunity online and submit their information through the inquiry form.