Video: Smithsonian Water/Ways Exhibit Opens in Crisfield
December 20, 2019
The Bay Bulletin, an extension of the Chesapeake Bay Times, December 17, 2019
by Cheryl Costello
*****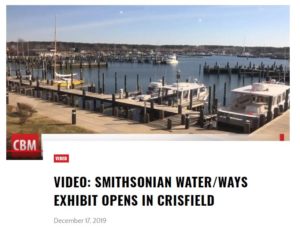 A traveling Smithsonian exhibit, tracing the profound impact of water on every facet of our lives, has been traveling the nation all year.
Appropriately, the Water/Ways exhibit has been making the rounds on the Chesapeake Bay. Each town where it stops adds a local, companion exhibit to show the role of water on our region.
Water/Ways just opened in Crisfield, and Cheryl Costello was there to see it unveiled. Watch below:
See the original link here.