Western Maryland Student Wins Gold Medal in National Competition
July 1, 2020
10 Maryland Students Receive Honors at National History Day
(Baltimore, MD) – A Maryland student, Garrett County's Laura Huelskamp, won the gold medal in her category at National History Day, held virtually June 14 –20, 2020.  Nine other Maryland students were awarded Outstanding State Entry or received special recognition. A total of 60 students from Maryland competed at this year's national competition.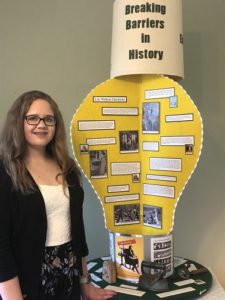 The National History Day competition involves more than 3,000 students in the final stage.  Over a half-million students participate at the school, district, state, and national levels. Students from all 50 states, District of Columbia, Puerto Rico, Guam, American Samoa, and international schools in China, Korea, and South Asia participated in the event, conducted online this year due to the coronavirus.
For Maryland History Day, an affiliate of National History Day, students create original documentary films, exhibits, performances, research papers, or websites exploring a historical topic of their choice on an annual theme. Advancers to National History Day typically have won first or second place at the state contest, a culmination of the yearlong Maryland History Day program presented by Maryland Humanities.

Huelskamp, who attends Northern Middle School in Garrett County, won the gold medal for Junior Individual Exhibit for her project on rural electrification.
"My favorite part of my experience was interviewing people who lived without electricity and experienced the process of getting electricity through the Rural Electrification Act. It was interesting to learn how each person's experience was different," says Huelskamp. U.S. Congress passed the Act in 1936. By 1955, 90% homes had electricity, she says. "Talking to people who experienced this change made my project feel more personal and really helped my understanding of this time in history." 
Amanda Wilburn, Huelskamp's teacher at Northern Middle School, praises her student's work. "We are so excited about this high honor for Laura Huelskamp," Wilburn says.  "From the beginning of the History Day process, I have been so impressed with Laura for the depth of her research and understanding, and the clarity, attractiveness, and thoroughness of her presentation," she adds. "The Gold Medal is a tremendous culmination of her hard work and dedication to the program over the past year. The Northern Middle School family is so proud of Laura and her achievement!"
 The following students received other honors: Brenna Girard, Colleen Hueting, Matt Koff, Bobby Diaz, Rohin Garg, Thomas Huang, Allen Tang, and Andrew Wan of Montgomery County and Kendall Madison of Howard County.
Maryland Honorees at National History Day

Garrett County
GOLD MEDAL (FIRST PLACE)
Student:              Laura Huelskamp
Category:            Junior Individual Exhibit
Topic:                  "Aren't Lights Grand?": Breaking Barriers in History with Rural Electrification
School:               Northern Middle School
Teacher:            Amanda Wilburn

Howard County
FINALIST and OUTSTANDING AFFILIATE ENTRY, JUNIOR DIVISION

Student:            Kendall Madison
Category:          Junior Individual Exhibit
Topic:                 Elizabeth Blackwell: Breaking Barriers for Women in the Medical Field
School:               Mayfield Woods Middle School
Teacher:            Elizabeth Singleton
Montgomery County

FINALIST and OUTSTANDING AFFILIATE ENTRY, SENIOR DIVISION

Students:          Brenna Girard and Colleen Hueting
Category:          Senior Group Performance
Topic:                 The Legacy of "Shuffle Along": The First All-Black Musical on Broadway
School:              Poolesville High School
Teacher:           Stephanie Gomer
SELECTED TO SCREEN AT THE NATIONAL MUSEUM OF AFRICAN AMERICAN HISTORY AND CULTURE
Students:         Bobby Diaz, Rohin Garg, Thomas Huang, Allen Tang, and Andrew Wang
Category:         Senior Group Documentary
Topic:                Breaking the Invisible Barrier: The National Mental Health Act of 1946
School:             Winston Churchill High School
Teacher:         Christopher Forney
Student:           Matt Koff
Category:         Senior Individual Documentary
Topic:                Keith Haring: Breaking Barriers During the AIDS Crisis
School:             Bullis School
Teacher:           Patricia Topliffe