I was reminded of… the humanity of history.
-Chautauqua Participant
Wouldn't it be great to be able to hear from and interact with notable figures in history? Well, in July you can. This summer, join Maryland Humanities for our 26th annual Chautauqua living history series.
Chautauqua 2020: Raising Their Voices
"One day, I know the struggle will change. There's got to be a change … not only for the people in the United States, but people all over the world." 

– Fannie Lou Hamer
This summer, Maryland Humanities raises the voices of four notable women who took action to secure their right to vote. We bring to the Chautauqua stage the unique story of each of these women as they fought for their rights starting in the 17th century and continuing through the modern era.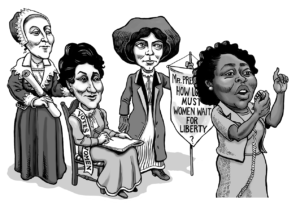 Margaret Brent (1601–1671), a resident of St. Mary's County, was the first woman in Colonial America to request the right to vote. Mary Ann Jung, an award-winning performer who specializes in interactive history, will portray Brent.
Mary Church Terrell (1863-1954) was a suffragist and a founder of the National Association for the Advancement of Colored People (NAACP): she also founded the National Association for Colored Women and became its first president. Sherrie Tolliver, who holds a BFA in acting and a minor in African American History from New York University, will portray Terrell.
Alice Paul (1885-1977) was the leader of the women's suffrage movement, helping to secure the passage of the 19th amendment, and author of the Equal Rights Amendment. Elizabeth Cannon and Joanna Guy will portray Paul in a dual performance. This mother-daughter duet will highlight Paul at two significant moments in her life.
Fannie Lou Hamer (1917–1977) was a Student Non-Violent Coordinating Committee (SNCC) organizer who co-founded the Mississippi Freedom Party. Arthuretta Martin, a performer who also conducts research on the framers of civil rights era legislation, will portray Hamer.
Join us this summer in seven counties across the state.
Baltimore County

The Community College of Baltimore County, Catonsville
800 South Rolling Road, Catonsville, MD 21228

Friday, July 10 – Margaret Brent
Saturday, July 11 – Mary Church Terrell
Sunday, July 12 – Fannie Lou Hamer

Cecil County

Elkton Central Library
301 Newark Avenue, Elkton, MD 21921
6:00 p.m.

Saturday, July 11 – Alice Paul

Cecil College, North East
Milburn Stone Theatre
One Seahawk Drive, North East, MD 21901
7:00 p.m.

Tuesday, July 14 – Margaret Brent

Charles County

The College of Southern Maryland, La Plata
8730 Mitchell Road, La Plata, MD 20646
6:45 p.m.

Monday, July 13 – Margaret Brent
Tuesday, July 14 – Mary Church Terrell
Wednesday, July 15 – Fannie Lou Hamer

Garrett County

Garrett College
Auditorium
687 Mosser Rd, McHenry, MD 21541
7:00 p.m.

Sunday, July 5 – Alice Paul
Monday, July 6 – Mary Church Terrell
Tuesday, July 7 – Fannie Lou Hamer

Harford County

Harford Community College
401 Thomas Run Road, Bel Air, MD 21015

Monday, July 13 – Mary Church Terrell

Montgomery County

Montgomery College, Germantown
20200 Observation Drive, Germantown MD 20876
7:00 p.m.

Tuesday, July 7 – Mary Church Terrell
Wednesday, July 8 – Alice Paul
Thursday, July 9 – Fannie Lou Hamer

Talbot County

Steamboat Building at the Chesapeake Bay Maritime Museum
213 N. Talbot Street, St. Michaels, MD 21663
7:00 p.m.

Wednesday, July 8 – Margaret Brent
Thursday, July 9 – Alice Paul
Friday, July 10 – Fannie Lou Hamer

All performances will be held outdoors. Please bring folding chair. In case of severe weather, program will be held in the Small Boat Shed (Wednesday/Thursday) or the Van Lennep Auditorium in the Steamboat Building (Friday).
Watch past Chautauqua performances
Baltimore County & Charles County Sponsor
Disclaimer: The views and opinions expressed in Chautauqua are the performers' interpretations of the historical figures and do not necessarily reflect the views or position of Maryland Humanities, Chautauqua host sites, or our funders.