Spend a Saturday following in the footsteps of some of Baltimore's great literary and cultural figures.
Dive into the world of rare books at the Peabody Library, see where the lives of Emily Post and Gertrude Stein intersected, sit at the desk of legendary novelist John Dos Passos, and more.
2020 Literary Walking Tour Dates
All tours through 2020 have been  canceled. Please check back with us in Spring 2021. Thank you.
Tours begin at 11 a.m. and last approximately 90 minutes to 2 hours. Tickets are required and must be purchased in advance for $10 per person; tour docents cannot accept cash walk-ups on the day of the tour. Attendees must wear a face mask.
Tour reminders and tips:
Please be on time. Tours begin at 11 a.m. at the Enoch Pratt Free Library, 400 Cathedral Street.
Check your email for a confirmation in advance of your scheduled tour date.
Sorry, no pets permitted on the tour.
Attire: Dress appropriately for the weather and wear comfortable shoes made for walking.
Weather policy: Keep an eye on the weather report as tours may be cancelled due to inclement weather. In this case, will we issue a replacement ticket for another tour date.
Duration: Tours generally run between 90 minutes to 2 hours in length depending on the group, questions, and conversation.
Parking: Ample street parking is available at meters and local paid lots. Some meters in the area have a 4 hour limit. Because the tour starts at the south end of Mount Vernon and ends at the north end, you may want to consider parking about in central Mount Vernon, for instance at the open lot at

810 N Charles St or the Walters Art Museum lot at 600 Cathedral St

.  After the tour, participants can either walk back or take the Purple Circulator bus (free), which they can catch nearby on St. Paul Street – this has a stop at Saratoga.
Download the Baltimore Heritage Walking Tour App
Created in partnership with Maryland Humanities, CityLit, The Maryland State Arts Council, and the University of Baltimore, this smartphone app includes the Maryland Humanities tour and others, totaling 150 Baltimore literary landmarks.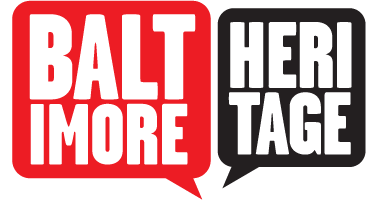 Literary Mount Vernon Walking Tours have been partially funded by the Office of Mayor Jack Young and the Baltimore Office of Promotion and The Arts.