The selection: What's Mine and Yours by Naima Coster
One Maryland One Book (OMOB) returned to an in-person author tour after two years of virtual, with Naima Coster's What's Mine and Yours. Across six host sites, the range of discussion topics that audiences engaged the author on reflected the diversity of Maryland's readership and the strong value OMOB has in connecting people. This was also reflected in the increase of press engagements from previous years, with four media interviews of the author and two coverage pieces. We distributed 6,313 books to public schools and libraries, engaging 75 schools and partnering on 139 library programs. The book's subject matter helped initiate programming ideas, including grief writing workshops, community trauma therapy, and exploration of the history of school segregation.
Ms. Coster visited select locations across the state for in-person events as part of an Author Tour, from October 2 through October 5. Find times and locations here.
See details below, or hear directly from author Naima Coster about What's Mine and Yours:
"What's Mine and Yours" is a multigenerational saga featuring two North Carolina families. They collide in ways that neither is prepared for when Black students from the east side of the county are integrated into the predominantly white schools on the west side. Readers will follow these families over decades as they break apart and come back together.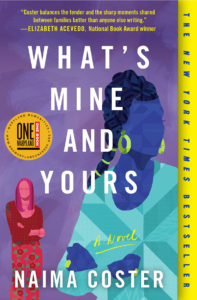 About the Author

Naima Coster is the New York Times bestselling author of two novels and a recipient of the National Book Foundation's 5 Under 35 honor. Her most recent novel, What's Mine and Yours, was a Read with Jenna Today Show Book Club pick, a Book of the Month Club pick, and was named a best book of the year by Kirkus, Amazon, Esquire, Marie Claire, Ms. Magazine, The Millions, and Refinery29.

Naima's first novel, Halsey Street, was a finalist for the Kirkus Prize for Fiction and a semifinalist for the VCU Cabell First Novelist Award. Published in 2018, it was named a must-read book of the year by People, Essence, BitchMedia, Well-Read Black Girl, The Skimm, and the Brooklyn Public Library.

Naima's stories and essays have appeared in the New York Times, Elle, Time, Kweli, The Cut, The Sunday Times, Catapult, The Paris Review Daily, among other publications, and in numerous anthologies. She is a graduate of Yale University, Fordham University, and the Columbia University School of the Arts, where she earned her MFA. She has taught writing for over a decade in community settings, youth programs, and universities. She currently teaches in the low-residency MFA program at Antioch University in L.A. She is a 2022 mentor for the Periplus Collective.

Naima is at work on her third novel about early motherhood, class mobility, and the lifelong friendship between two women. She lives in Brooklyn with her family.

About the Book

From the author of Halsey Street, a sweeping novel of legacy, identity, the American family—and the ways that race affects even our most intimate relationships.

A community in the Piedmont of North Carolina rises in outrage as a county initiative draws students from the largely Black east side of town into predominantly white high schools on the west. For two students, Gee and Noelle, the integration sets off a chain of events that will tie their two families together in unexpected ways over the span of the next twenty years.

On one side of the integration debate is Jade, Gee's steely, ambitious mother. In the aftermath of a harrowing loss, she is determined to give her son the tools he'll need to survive in America as a sensitive, anxious, young Black man. On the other side is Noelle's headstrong mother, Lacey May, a white woman who refuses to see her half-Latina daughters as anything but white. She strives to protect them as she couldn't protect herself from the influence of their charming but unreliable father, Robbie.

When Gee and Noelle join the school play meant to bridge the divide between new and old students, their paths collide, and their two seemingly disconnected families begin to form deeply knotted, messy ties that will shape the trajectory of their adult lives. And their mothers—each determined to see her child inherit a better life—will make choices that will haunt them for decades to come.

As love is built and lost, and the past never too far behind, What's Mine and Yours is an expansive, vibrant tapestry that moves between the years, from the foothills of North Carolina, to Atlanta, Los Angeles, and Paris. It explores the unique organism that is every family: what breaks them apart and how they come back together.

Naima Coster on One Maryland One Book

I am thrilled that What's Mine and Yours has been selected for One Maryland One Book 2022. My book is about characters who must remake their lives—and whose lives are remade—after tragedy, opportunity, love lost and gained. It's a story that takes seriously both the difficulty and promise of "new beginnings" as it follows two families whose paths intersect and diverge over twenty years. I am honored that the book will find readers across the state of Maryland this year and that I will be able to join in the conversation. Thank you!