Celebrating educators who help students turn the page
On May 4, Washington Episcopal School teacher Katherine Hopper was awarded the 2019 Christine D. Sarbanes Teacher of the Year Award.
Educators are one of our most valuable resources. It's educators who inspire students to learn, motivate them when they struggle, and celebrate first when they succeed. Simply put, teachers change lives. Sarbanes Awards winners change lives by inspiring their students to love literature.
Every year, Maryland Humanities awards a special prize to a Letters About Literature (LAL) teacher in memory of Christine D. Sarbanes, former Maryland Humanities board member. We honor Christine Sarbanes' work as an educator by recognizing a teacher who works avidly to promote reading in his or her school.
Who is eligible for the Sarbanes Award?

To be eligible for the Sarbanes Award, Maryland educators must meet the following requirements:

Teach students who participate in LAL

Promote reading and writing by employing creative teaching methods

Who can submit a nomination?

Nominations are accepted from principals and colleagues.

How are nominations submitted?

The submission deadline for the 2019 Sarbanes Award is Friday, March 29, 2019 at 5:00 p.m. The online nomination form can be found here.
Katherine Hopper
Winner of the 2019 Christine D. Sarbanes Teacher of The Year Award
As a seventh- and eighth-grade English teacher at Washington Episcopal School in Montgomery County, Ms. Hopper inspires her students to love reading. On any given day in her classroom there will be a dozen or more teens reading books of their choosing.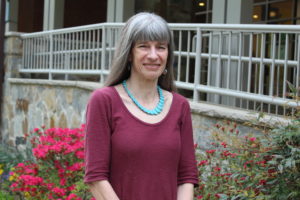 Congratulations to all of our Sarbanes Award recipients:
| Year | Sarbanes Award Winner | Winner's School |
| --- | --- | --- |
| 2018 | Tara A. Elliott | Salisbury Middle School, Wicomico County |
| 2017 | Melanie Coates | Catonsville High School, Baltimore County |
| 2016 | Diane Curry | River Hill High School, Howard County |
| 2015 | Kimberly Dyar | Elkton High School, Cecil County |
| 2014 | Faith Majors | Samuel Ogle Middle School, Prince George's County |
| 2013 | Clinton Smith | Parkdale High School, Prince George's County |
| 2012 | Aisha Watson | City Neighbors Charter School, Baltimore City |
| 2011 | Cynthia Barry | St. Martin's-in-the-Field Day School, Anne Arundel County |
| 2010 | Cynthia Malek and Kathleen Mikas | Patterson Mill Middle School, Harford County |