Maryland Humanities Announces Host Sites for Statewide Smithsonian Exhibition Tour
August 27, 2020
(Baltimore, MD) – Maryland Humanities has chosen five sites to host Voices and Votes: Democracy in America, a traveling Smithsonian Institution exhibition, which will tour throughout Maryland from April 2021 to January 2022. American revolutionaries embraced a radical idea of establishing a government that entrusted the power of the nation not in a monarchy, but in its citizens. That great leap sparked questions that continue to impact Americans: who has the right to vote, what are the freedoms and responsibilities of citizens, and whose voices will be heard? Voices and Votes: Democracy in America will be a springboard for discussions about those very questions and how they are reflected in local stories.
The venues selected to host the tour of Voices and Votes are Queen Anne's County Historical Society in Centreville, Allegany Museum in Cumberland, The Edward H. Nabb Research Center for Delmarva History and Culture in Salisbury, Sandy Spring Museum, and Baltimore County Historical Society (with Community College of Baltimore County).
Voices and Votes is the seventh Museum on Main Street (MoMS) project brought to small communities throughout the state by Maryland Humanities. Each site will host the exhibition for six weeks and develop a complementary exhibit highlighting their community's heritage and histories.
"In addition to learning more about our country's voting history, we're looking forward to exploring the voting rights history of five diverse Maryland regions where our host sites are located," said Lindsey Baker, executive director of Maryland Humanities. "We see the impact the lack of voting access has on many Americans today and can better understand current civil rights movements by looking at our history."
Learn about the host sites, their partners, and the tour schedule here.
Here's what the host sites are saying:

Vic Rezendes, Vice President of Administration at Allegany Museum says: "We are enthusiastic about educating our citizens, particularly our youth, about the historic struggle to establish and maintain a democracy in America.  The exhibit offers us an opportunity to showcase our extensive collections on the subject."
"The Queen Anne's County Historical Society is honored to be selected to be a host site for Museum on Main Street. This will be the first time that the county will host a Smithsonian Institution Traveling Exhibition," said Jennifer Moore, President of Queen Anne's County Historical Society. "It is an opportunity to share the Smithsonian  with the local community, inspire conversation,  share history about our democratic process, and celebrate the opportunities that the voting experience has to offer our town, our county, our state, and our country."
"As part of Salisbury University, we work closely with students and faculty, and this exhibit will present a unique opportunity to encourage dialogue about the democratic process among our student community and inspire them to participate in civic engagement," said Melinda McPeek, Curator of Exhibitions and Engagement at Edward H. Nabb Research Center for Delmarva History and Culture. We are very excited to start working on a local addition to the exhibit and bring to life the stories of the people and events on Delmarva that helped shape American democracy."
"We're particularly pleased about being selected as a tour site because this exhibit will coincide with an exhibit of works by members of the Justice Arts Coalition.  All of the participating artists will be currently incarcerated or formerly incarcerated," said Allison Weiss, Executive Director of Sandy Spring Museum. "We will host programs on voting rights for the formerly incarcerated and how related laws disenfranchising people of color in particular." 
James Keffer, Executive Director of Historical Society of Baltimore County, said: "The topics covered in Voices and Votes are coming at a perfect time given the conversation in the country and our community. It is exciting to be forming partnerships with colleges and schools to reach students with these crucial stories. We hope to inspire them to fully engage in our democracy," Keffer adds. "After the extremely positive experience we had with the previous Smithsonian Museum on Main Street exhibition, Water/Ways, we couldn't be more enthusiastic to work with Maryland Humanities and this team again."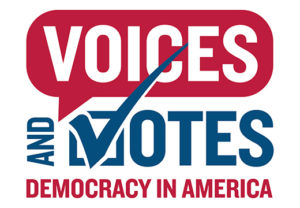 About Voices & Votes:
Voices and Votes is based on a major exhibition currently on display at the Smithsonian's National Museum of American History. This Museum on Main Street adaptation will have many of the same dynamic features: historical and contemporary photos; educational and archival video; engaging multimedia interactives with short games and additional footage, photos, and information; and historical objects like campaign souvenirs, voter memorabilia, and protest material. Our democracy demands action, reaction, vision, and revision as we continue to question how to form "a more perfect union." How do you participate as a citizen? From the revolution and suffrage, to civil rights and casting ballots, everyone in every community is part of this ever-evolving story – the story of democracy in America. Learn more about the exhibition here.
About Museum on Main Street:
Museum on Main Street (MoMS) is a Smithsonian Institution Traveling Exhibition Service program that teams up with state humanities councils to bring high-quality Smithsonian traveling exhibitions to museums, historical societies, and other small-town cultural venues across the country. These exhibits boost civic pride, as residents young and old, from diverse backgrounds come together to share and celebrate their heritage.