Maryland Humanities Presents 24th Year of Living History Series
June 25, 2018
Chautauqua Performances Feature a Legendary Abolitionist, a Boundary-Breaking Supreme Court Justice, and a Fierce Humanitarian
(Baltimore) – Maryland Humanities brings Frederick Douglass, Thurgood Marshall, and Eleanor Roosevelt back to life through its program, Chautauqua: Seeking Justice. Actor-scholars portraying these three giants of social justice will travel to eight counties throughout the state, from July 5 until July 15.
Chautauqua celebrates its 24th season this summer. Living history performances by actor-scholars are followed by question and answer sessions which spark spirited conversation and provide educational family fun. The Thurgood Marshall performance features an excerpt from the George Stevens, Jr. play, Thurgood, and will be followed by a dialogue with Dr. Lenneal Henderson. Henderson, an internationally recognized scholar, brought Marshall to life in the 2010 Maryland Humanities Chautauqua tour. Every Chautauqua performance is free and open to the public and opens with live local musical and theatrical acts. 
Chautauqua performances will take place at: Garrett College in McHenry; Elkton Central Library; Chesapeake Bay Maritime Museum in St. Michaels; Harford Community College in Bel Air; Cecil College in Elkton; College of Southern Maryland in La Plata; Montgomery College in Germantown; Community College of Baltimore County in Catonsville; and Crofton Community Library.
Chautauqua is supported in part by Old Line Bank, Baltimore County Commission on the Arts and Sciences, Talbot County Arts Council (with funds from the Maryland State Arts Council), and Karen and Langley Shook. Learn more about Chautauqua and see the tour schedule here.
ABOUT THE FEATURED HISTORICAL FIGURES AND ACTOR/SCHOLARS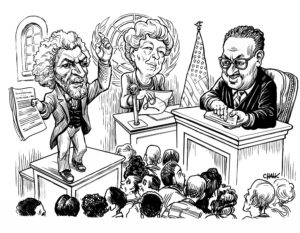 Frederick Douglass (1818–1895)—a writer, orator, and abolitionist—was one of the most important African American activists of the 19th Century. 2018 is the "Year of Frederick Douglass"—the bicentennial celebration of the Marylander's birth.
Douglass will be performed by Bill Grimmette, a living history interpreter, storyteller, actor, and motivational speaker who has worked in film, television, and on stage throughout the United States and abroad. He has appeared as Martin Luther King, Jr., W.E.B. Du Bois, Frederick Douglass, and Benjamin Banneker at Chautauquas in Maryland, Colorado, South Carolina, and at schools in the Northern Mariana Islands. He has also performed at the Smithsonian Institution, the Kennedy Center, and on National Public Radio. Grimmette has an M.A. in psychology from the Catholic University of America and has done post-graduate work in education at George Mason University.

Eleanor Roosevelt (1884–1962) was a humanitarian, diplomat, and the longest-serving First Lady in American history. She also advocated for fair labor laws, civil rights, women's representation in government, and more social justice issues.
Susan Marie Frontczak—who has given more than 700 presentations as Marie Curie, Mary Shelley, Irene Castle, Clara Barton, and Eleanor Roosevelt across 38 of the United States and abroad in her 17 years as a living history scholar—will portray Roosevelt. Frontczak says her biggest challenge with Mrs. Roosevelt is to choose what pieces of her immense life to include in any given presentation and so has developed four distinct programs to explore different aspects of Roosevelt's life. She also works with both adults and youth to develop their own living history presentations, including authorship of the Young Chautauqua handbook for Colorado Humanities.

Thurgood Marshall (1908–1993)was a civil rights activist from Baltimore who broke barriers as the lead NAACP attorney in Brown v. Board of Education and as the first African American Supreme Court Justice.
Marshall will be portrayed by Brian Anthony Wilson, who recently appeared as the great man in a full production of George Stevens, Jr.'s play Thurgood at Olney Theatre Center. A professional actor, Wilson's recent stage credits include Romeo & Juliet: A Requiem and The Diary of Anne Frank (People's Light, PA), Fences (J.A.G. Prod. in Woodstock, VT), and Titus Andronicus (Rowan University, NJ). Upcoming projects include Sweat (Philadelphia Theatre Company) and Gem of the Ocean (Arden, PA). Selected screen credits include Ocean's 8, Glass, Creed, Limitless, 6 Souls, Soller's Point, Crooked & Narrow, Keeping The Faith, The Postman/Siren (Freeform), Dietland (AMC), Bloodline (Netflix), Gotham (Fox), Bull (CBS), Broad City (Comedy Central), Blue Bloods (CBS), and The Sopranos and The Wire (HBO).
Dr. Lenneal Henderson is a Visiting Instructor at the College of William and Mary. He is also an Assistant Dean for Civic Engagement and International Affairs; Distinguished Professor of Government and Public Administration and Senior Fellow at the William Donald Schaefer Center for Public Policy and a Senior Fellow in the Hoffberger Center for Professional Ethics, Emeritus at the University of Baltimore. Dr. Henderson has been a consultant for more than 30 years in the areas of housing, education policy, energy management, and environmental policy. He has appeared as Thurgood Marshall, Martin Luther King, Jr., and A. Philip Randolph in Maryland, North Carolina, California, Texas, Virginia, Colorado and Nevada. Dr. Henderson is a former Board Chair of Maryland Humanities and a current member of the Virginia Humanities board. He received his A.B., M.A., and Ph.D. degrees from the University of California, Berkeley.