Maryland Humanities Receives Over $100,000 to Support Democracy and Civics Programming
October 21, 2021
(Baltimore) – Maryland Humanities recently received a combined total of $132,188 primarily for innovative civics and history education offerings from the Library of Congress' Teaching with Primary Sources Program and National Endowment for the Humanities (NEH).
The Library of Congress' Teaching with Primary Sources program awarded Maryland Humanities $82,188 to support a Maryland History Day for English Learners Curriculum. Teaching with Primary Sources (TPS), a complement to Maryland Humanities' Maryland History Day program, is a partnership between Maryland Humanities, Maryland Public Television, and the Maryland State Department of Education. NEH awarded Maryland Humanities $50,000 for democracy-focused programming as part of the NEH's "A More Perfect Union" initiative, created to reflect upon America's future as the country nears its 250th year in 2026.
Funding from the Library of Congress will support the creation of a curriculum for teaching English learners primary source research, as well as related outreach and professional development resources for educators. This will build on Maryland Humanities' previous work with the 200 History Inquiry Kits the organization has previously created. Students may use the kits to select a research topic of interest and analyze themed primary sources. With the new funding, Maryland Humanities will also create 16 new kits and add a glossary feature to 20 existing ones.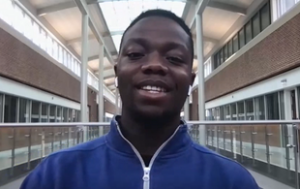 NEH funding will support three prongs of democracy-focused programming: the continuation of story collection of Maryland Humanities' Maryland Voices oral history project on democracy, free capacity building and professional development opportunities for Maryland History Day teachers and nonprofit professionals, and funding to classrooms involved in Maryland History Day for digital resources and field trips. Maryland Humanities is one of 56 organizations whose programming  will "engage local communities, educators, and students in reflection, study, and discussion of American and community history, and the rights and responsibilities of active citizenship," reads an NEH press release. "NEH hopes to deepen public understanding of the American experience – in all its complexities – and enhance the knowledge, skills, and capacities needed to sustain a thriving republic."   
NEH Acting Chairman Adam Wolfson says: "…I could not be more pleased to announce NEH support for 56 new local initiatives that will invite audiences across the country to reflect on our diverse history and the ideals that have animated the republic for more than 200 years. NEH is proud to assist our state and jurisdictional affiliates in developing a wide range of resources to foster civil discourse and increase students' understanding of our systems of government and give them the skills and knowledge to participate in civic life."
In collaboration with The Peale Center for Baltimore History and Architecture, Maryland Humanities has interviewed newly minted voters about their experiences with the democratic process and civic engagement for its Museum on Main Street and Maryland Voices programs. These stories are featured on the kiosk traveling with the Smithsonian Museum on Main Street exhibition, Voices and Votes: Democracy in America, on social media, and elsewhere. The NEH funding allows Maryland Humanities to record and share an expanded, more diverse set of stories.
Maryland Humanities will also use the funding to support Maryland History Day teachers in creating more racially equitable classrooms and inclusively encouraging civic engagement.  Maryland Humanities will also offer nonprofits free capacity-building programming informed by its "Beyond the Statements: Leading Racial Equity in Humanities Organizations" web series, offered earlier in 2021.
Lastly, the NEH funding lets Maryland Humanities provide field trip stipends, to relieve schools or students' families from bearing the costs of transportation for out-of-classroom learning. Maryland Humanities will provide some funding for digital resources in hopes of reducing the digital divide. Resources include research tools and software for creating websites and editing documentary films.