Maryland Students Honored in Writing Contest
May 10, 2019
Students and teacher recognized at Maryland Humanities ceremony celebrating state finalists for Letters About Literature
(Baltimore) – Two Maryland students read their letters to authors onstage to a live audience in the Harry and Jeannette Weinberg Auditorium at Mercy High School on May 4. Both Clara Winkel of St. Mary's County and Esther Kim of Montgomery County took home the first place prize in the state for their age range in the 2019 Letters About Literature contest, a program of the Center for the Book in the Library of Congress, coordinated locally by Maryland Humanities.  The runners up received awards, as well. Students participate in Letters About Literature by writing to the author of a book, poem, short story, essay, or speech.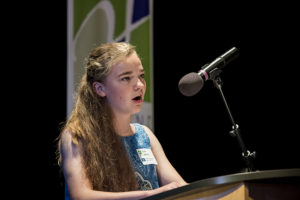 One hundred one finalists from across Maryland were honored at the ceremony in Baltimore City. Katherine Hopper received the Christine D. Sarbanes Teacher of the Year Award, bestowed annually to a Maryland teacher who works to promote reading by employing creative teaching methods to inspire students to read great literature. Hopper teaches 7th and 8th grade English at Washington Episcopal School in Montgomery County.
Letters About Literature is a national program where students write to the author (living or dead) of a book, poem, or speech and express how the work changed their view of the world or themselves. Letters are judged on state and national levels. Readers in grades 4–12 are eligible to enter the contest. Nearly 1,500 Maryland students entered the contest this year. The first place winners for each contest level advance to the national level of the competition. 
Melinda Beatty—author of Heartseeker and the upcoming sequel, Riverbound—gave the keynote address. The Honorable John P. Sarbanes and Michael Sarbanes spoke as well.
See the list of winners and runners-up and read their letters.